The World Nomad Games is a unique international sporting event that celebrates the traditional sports and cultural heritage of the traditionally nomadic Turkic people. The World Nomad Games brings together athletes and spectators from around the world to participate in nomadic traditions through a festival of traditional sports, cultural events, and art exhibitions.
The next games will be held in Kazakhstan in 2024. As a spectator it is free to attend the World Nomad Games, but the opening and closing ceremonies do require a ticket. These tickets have generally been quite reasonably priced with ranges based on seating between $5 and $50 USD. Dates and ticket info for 2024 have not yet been announced, but the games have traditionally been held at in late September and early October. Anyone interested in attending should check the site to see if dates and further info have been posted yet.
History of the World Nomad Games
The games were first held in 2014 in Cholpon-Ata, Kyrgyzstan, showcasing about 300 athletes from 18 countries who competed in 11 ethnic sports. The following games, held in 2016 and 2018, which both were also played in Kyrgyzstan. In 2016 the festivities saw 23 sports featured and 40 nations representing and in 2018 the games made an even grander leap to feature 37 sports and 82 nations.
Although intended to be held every two years, COVID-19 led to the cancellation of the 2020 games. However, the World Nomad Games once again resumed in 2022 and for the very first time was held outside of Kyrgyzstan. Those games, in Iznik, Turkey, offered only 21 events, but had a tremendous showing of over 102 nations participating in the games.
The creation of the World Nomad Games can be attributed to Akibaev Askhat Akibaevich, a prominent Kyrgyz statesman who created the games "with the objective to preserve the cultural and historical heritage and diversity of the Turkic nomadic peoples through the participation of traditional sports and festivities." Akibaevich has held many positions within the Kyrgyz government primarily in state-supported sports and cultural events. He also spent many years working in the Kyrgyz tourism industry. He initially brought these passions together with the creation of the nomad-sports-centric non-profit World Ethnosport Confederation. His work eventually led to the creation of the World Nomad Games in 2014.
The World Nomad Games has sense been added to the UNESCO Register of Good Safeguarding Practices – a list of recognized efforts to preserve traditional cultures.
Many of the sports featured in the games are uniquely ethno-centric to these nations and have been passed down through generations. All the Central Asian states with Turkic roots are a constant presence at the games. These include Kyrgyzstan, Kazakhstan, Uzbekistan, and Turkmenistan. Also present are other Turkic countries like Azerbaijan and Turkey as well as Russian which has large ethnic minorities with Turkic and/or nomadic roots. Afghans and Tajiks, which are culturally and linguistically Persian but which share in Central Asia's heritage, and Mongolia, whose nomadic empire once united all of Central Asia, round out the core participants.
However, as the games have gained global recognition and as the passion of these core participants for these sports has become more widely recognized, many other countries now regularly send delegations in solidarity. The US, the Philippines, and much of Europe are also now regularly represented. This is often used as a way of not only acknowledging the traditional culture but also in connecting diplomatically with these core countries.
For instance, in the case of the United States, eight cowboys from Jackson Hole, Wyoming competed in the 2016 World Nomad Games as a kok boru team with little to no experience in the high contact sport. In 2018, two of these cowboys returned with 8 new team members, all also from Jackson Hole. Joining them was a delegation of 32 U.S. Peace Corps volunteers who joined games that revolved around mental strategy, such as Mangala and Ordo. The U.S. delegation was headed by the Chargé d'Affaires of the U.S. Embassy in the Kyrgyz Republic Brian Stimmler. He was also joined by Acting U.S. Deputy Assistant Secretary of State for Public Diplomacy and Regional Affairs in South and Central Asia Emilia Puma. Additionally, to competing in the games other volunteers participated in cultural festivities and performed song and dance routines in a western folk style, as well as demonstrated American sports such as football, baseball, and cattle roping.
Sports and Disciplines at the World Nomad Games

The games feature traditional and cultural sports such as horse racing, archery, eagle hunting, various forms of wrestling, and, perhaps most importantly, various equestrian sports. Some of these include:
Alysh (Алыш), A traditional form of wrestling played in many nomadic cultures, in which two wrestlers try to throw each other off balance and force their opponent's back to touch the ground.
Salburun (Салбурун), a sport of various hunting styles. Burkut Saluu is eagle hunting, where the bird of prey must track down and capture a target. Traditionally a live rabbit or fox is used in eagle hunting, but at the World Nomad Games a stuffed animal is used in substitution. Dalba Oynotuu is falconry, with the owner calling his bird from across a long field. The fastest time for the bird to reach its owner allows the team to be dubbed the winner.
Taigan Jarysh (Тайган жарыш) is dog racing and hunting, using a breed similar to a greyhound.
At Chabysh (Ат чабыш), is nomadic horse racing is a popular sport in Central Asia and Mongolia and is often included in the World Nomad Games.
Er Enish (Эр эңиш), also known as "Kyrgyz wrestling," is a form of wrestling in which two wrestlers try to lift each other off the ground and carry them for a certain distance.
Kok Boru (Көк бөрү), also called kokpar in Kazakhstan, is a traditional horseback game played in Central Asia, in which two teams try to score by throwing a dead goat or calf into the opposing team's goal.
The games follow a similar format to the Olympics with a gold, silver, and bronze medals awarded to first, second, and third place winners. Currently the most successful nation in the games has been Kyrgyzstan, which holds 81 gold medals, 77 silver medals, and 79 bronze medals totaling 237 medals. In second place is Kazakhstan with a total of 138 medals and in third place is Russia with 88 medals. Currently there are 41 nations from 5 continents that have medaled at the World Nomad Games.
Cultural Festivities
The World Nomad Games also offers presentations of art and performances. These include an event called "Ethno-hit," in which each nation enters one song in ethno-style and one popular song from their country in a competition similar to Eurovision. "Ethno-dance" similarly pits traditional dancers against each other.
There are also many non-competitive shows of culture such as popup art galleries, traditional dwelling demonstrations, and a bazar offering ethnic art, food, and fashion for sale.
The specific location of the games as chosen by the host countries are also often meant to showcase the county's relationship with its natural surroundings, pride in its landscape, and history. The original games in Cholpon Ata Kyrgyzstan were held on broad green fields surround by the Tian Shan Mountains on the shores of Kyrgyzstan's great lake, Issyk Kul. The Tian Shan have shaped much of Krygyzstan's history and Issyk Kul features prominently in the local ancient folklore. The region is also known locally as a vacation spot. This was thus a prime opportunity to showcase the country's ethno- and eco-tourism potential.
The most recent games in Turkey were similar, located on the shores of Lake Iznik with the Samanli Mountains in the background. Close by were many of Turkey's historic ancient Trojan and Greek ruins.
For Central Asian nations, the World Nomad Games have a special cultural importance. These nations have a shared history and cultural traditions that have been shaped by their nomadic lifestyles. The World Nomad Games celebrate this rich cultural heritage. The culture of these Central Asian nations has been exported around the globe with the popularity of the games and has invited many new nomadic cultures to join in celebrating nomadic traditions. The World Nomad Games has been wildly successful in promoting the traditional sports and cultural heritage of nomadic people, which has long been under pressure from its marginalization by the forces of globalization. The games provide an opportunity to raise awareness about these sports and encourage their continued practice and preservation.
You'll Also Love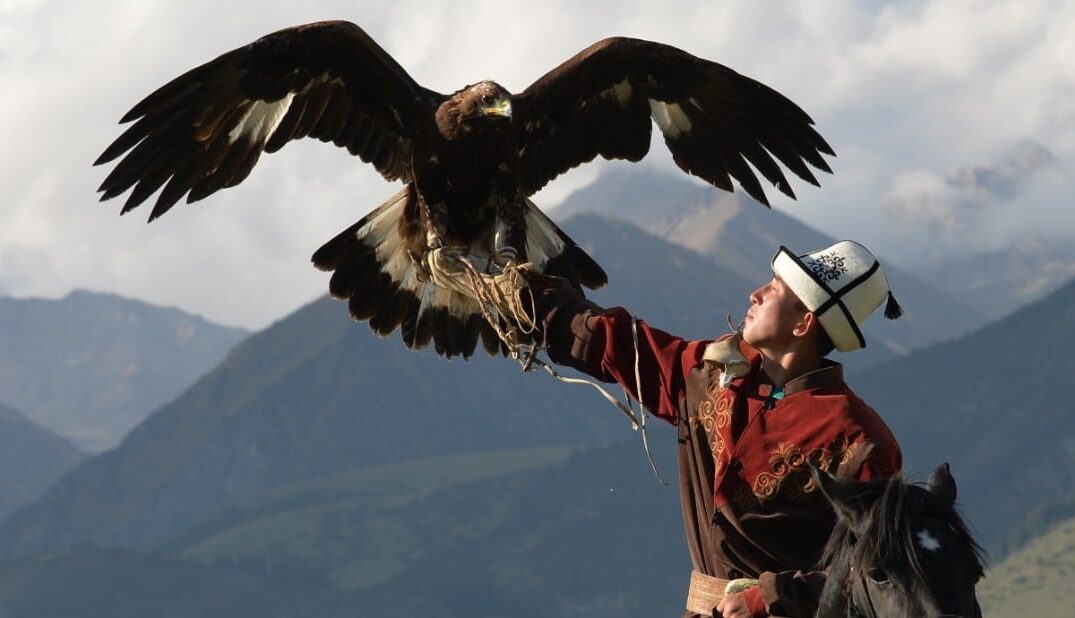 The World Nomad Games is a unique international sporting event that celebrates the traditional sports and cultural heritage of the traditionally nomadic Turkic people. The World Nomad Games brings together athletes and spectators from around the world to participate in nomadic traditions through a festival of traditional sports, cultural events, and art exhibitions. The next […]
0 comments