Окрошка (okroshka) is a cold soup that probably originated in the Volga region of Russia. Because of its light, refreshing taste, it is popularly served in summer. The soup usually consists of diced vegetables, eggs, and meats in a base of either kvass or kefir and is often garnished with sour cream. Best known in Russia, it can be found throughout the former Soviet space.
Почему так называется?
The name окрошка is from the Russian verb крошить (kroshit), which means "to finely chop" or "to crumble." As the name suggests, all vegetables, eggs, and meat are finely – and generally evenly – chopped.
Although окрошка is Russian, its inspiration may have been Turkic in origin. Similar soups can be found in many Turkic cultures and Turkic peoples were (and still are) settled along the Volga region where окрошка is believed to have originated. Analogues includes chalob from Uzbekistan, dzadziki in Turkey, and many soups from the Caucasus such as aksuu in Balkar cuisine or suucab in Karachay cuisine. A particularly close cousin of окрошка is dogramach, from Azerbaizhan.
Как правильно есть окрошку?
The most standard vegetables used to make окрошка are fresh cucumbers, boiled potatoes, radishes, and various greens such as scallions and dill. Most common for meats are diced ham or soft, boiled-type sausage such as докторская колбаса (doctor's sausage), a type of bologna developed in the USSR. However, beef, veal, or other types of sausages can also be used.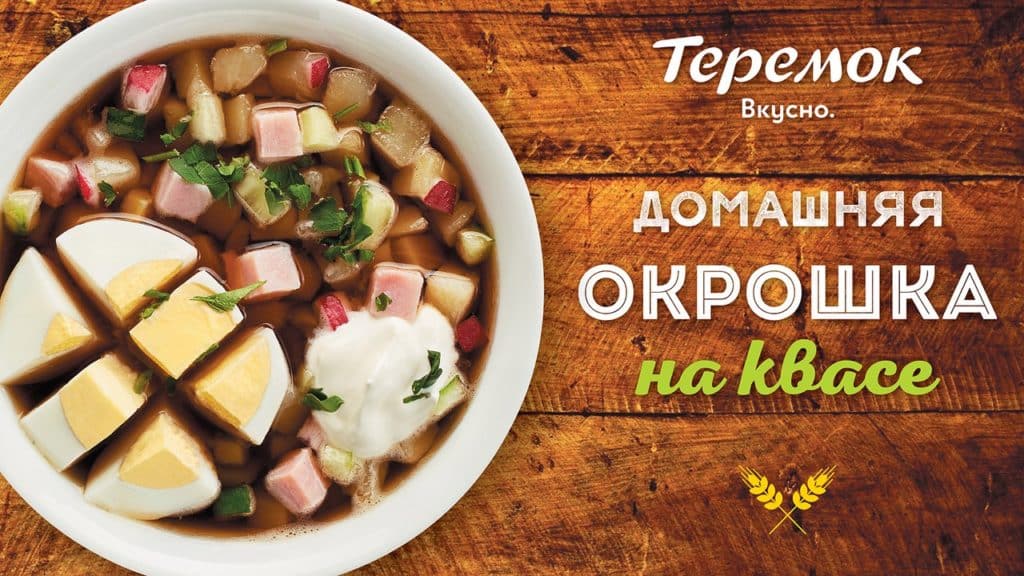 The only way to enjoy окрошка right is to eat it cold. It is a common and easy summer lunch often had at a dacha, where one might make it using vegetables taken straight from the garden. It can also be found in restaurants as a seasonal dish.
Both traditional bases – kvass and kefir – are fermented foods. This means that they have a small alcohol content – as all fermented foods (like yogurt, kimchi, or traditional root beer) do. These all have less than 1% alcohol content, which means that the alcohol gives the foods a slight bite to their taste, but eating them will not get you drunk.
Instead, the probiotics in the foods as well as the very small alcohol content have several health benefits for one's digestive and cardiovascular systems. Some also say that the probiotics have good effects on your hair, skin, and energy levels.
To eat окрошка, you only need a spoon and a hungry stomach. It is a very healthy, oil-free, and inexpensive dish that can be eaten as a starter or a meal.
Как правильно готовить окрошку?
There is a divide between those that like their окрошка with kefir and those that like it with kvass. Kvass is considered the more traditional base. Most traditionally, an unsweetened white kvass base will be used. However, many dislike окрошка with kvass and those that like kvass in their soup often don't like окрошка with kefir. It will be up to you to decide which camp you fall in.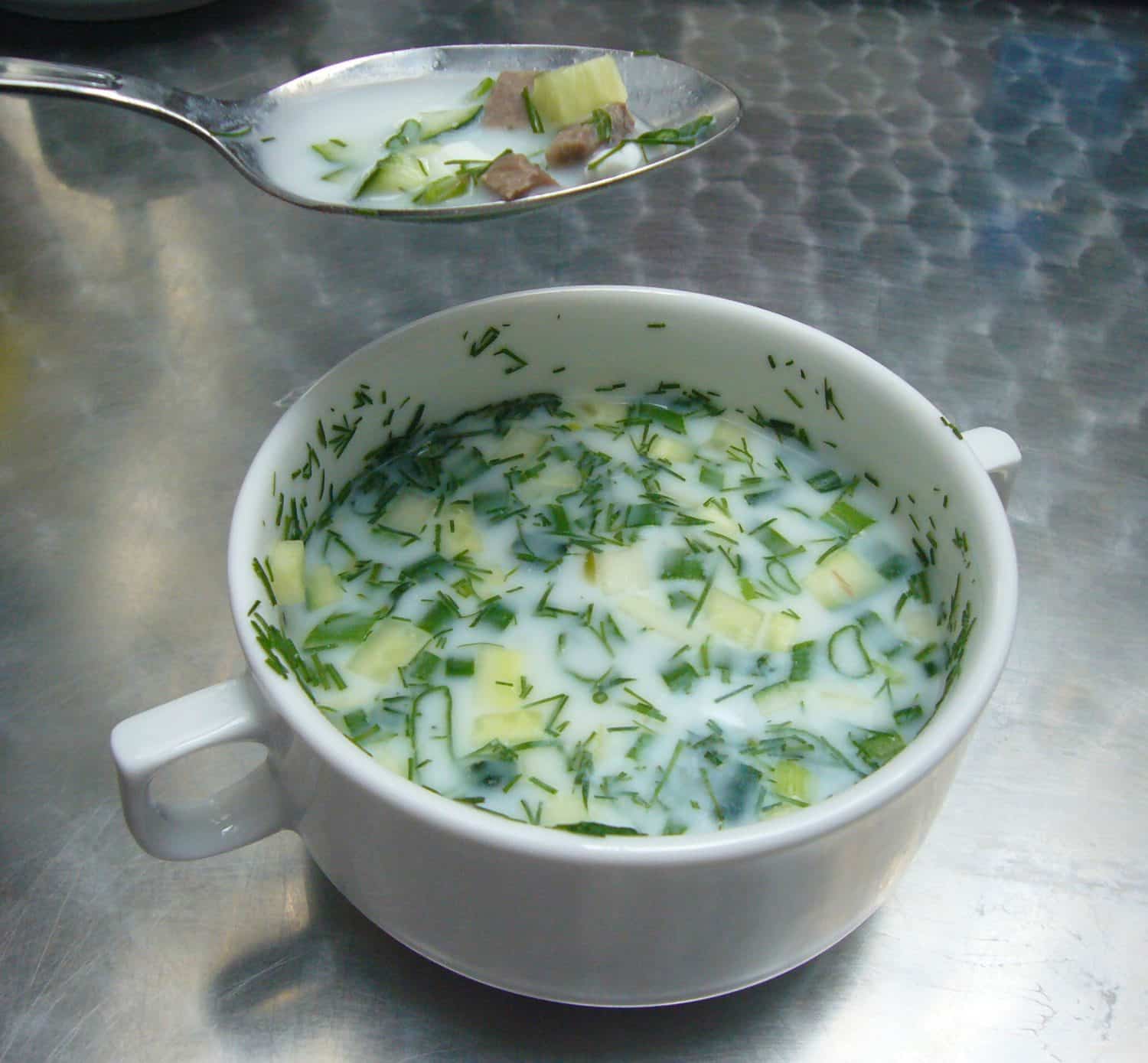 Preparing окрошка is very easy and can be done in half an hour. The longest element will be preparing the boiled potatoes. Boil them until soft, but not until they are mushy. They should still have enough firmness to be cut into cubes without falling apart. One recipe below for kefir окрошка suggests simply grating the potatoes and leaving them raw, for extra crunch. You can use boiled or grated potatoes for either recipe, depending on your personal taste.
The next longest cooking time will be the boiled eggs.
It is best to leave the окрошка mixture without the kefir, water, or kvass, covered in the refrigerator for at least two hours (or overnight) so that the various flavors can blend before serving.
Some cooks will additionally add about a tablespoon of strong Russian mustard (or two tablespoons of Dijon) to the vegetable/meat mixture per liter of kvass or kefir. This will give the soup a slightly bolder flavor.
Kefir окрошка often has sparkling water added. Borjomi, a Georgian mineral water that is naturally high in salt and other minerals is the favored water to use for this. Borjomi is so known for its health properties that the water is one of the tiny country's major exports. If you use Borjomi, you might need to reduce your added salt by about half. The added minerals and strong carbonation will also add an extra kick to the soup.
Thus, while окрошка may be a simple dish, it by no means offers only simple flavors. It allows for a surprising amount of creativity. The dish, best served, will deliver a salty-tangy flavor, and mixes the smoothness of the kefir or kvass with the crunch of fresh vegetables. Just make sure to have your ingredients fresh and to add the liquid elements just before serving (and don't over-stir!) so that they will not get soggy!
Давай приготовим!
See below for a free recipe for окрошка. See also the free videos below. If you are interested in cuisines from Russia, Ukraine, Georgia, and other places in Eurasia, make sure to see all our free recipes! You might also be interested in the following specialized cookbooks we've enjoyed:
Oкрошка (на квасе)
Okroshka (with kvass)
Ингредиенты:

редис – 230 г
картофель вареный – 400 г
яйца куриные крупные – 5 шт.
огурцы свежие – 300 г
колбаса вареная – 300 г
сметана – 230 г
соль – по вкусу
квас – по вкусу
лук зеленый – 1 пучок
укроп свежий – 1 пучок

Приготовление:

1. Картофель и яйца отварить до готовности, очистить и нарезать кубиком. Нарезать огурцы, редис и колбасу.

2. Мелко нарезать укроп и зеленый лук.

3. Соединить все подготовленные ингредиенты, посолить, заправить сметаной.

4. Добавить квас по вкусу (кто-то любит погуще, а кто-то пожиже).

Ingredients:

radish – 230 g
boiled potatoes – 400 g
large chicken eggs – 5
fresh cucumbers – 300 g
boiled sausage – 300 g
sour cream – 230 g
salt – to taste
kvass – to taste
green onion – 1 bunch
fresh dill – 1 bunch

Preparation:

1. Boil the potatoes and eggs, then peel and cut them into cubes. After that, chop the cucumbers, radishes and sausage.

2. Finely chop the dill and green onions.

3. Combine all the prepared ingredients. Season with salt and sour cream.

4. Add kvass to taste (some like it thicker and some thinner).
Oкрошка (на кефире и воде)
Okroshka (with kefir and water)
Ингредиенты:

картофель вареный – 4 шт.
колбаса копченая – 300 г
огурцы свежие – 4 шт.
редиска – 500 г
яйцо – 2 шт.
лук зеленый – 1 пучок
укроп – 1 пучок
сметана – 4 ст. л.
кефир – 1 ½ л
вода минеральная газированная – 2 стакана
перец черный молотый – ½ ч. л.
соль – ½ ч. л.

Приготовление:

1. Яйца отварить вкрутую, остудить, очистить. Вымыть редис, огурцы, зелень. Огурцы очистить от кожицы.

2. Картофель очистить от кожуры. Картофель, огурцы, редис, яйца натереть на терке для моркови по-корейски. Овощи получаются в виде длинной тонкой соломки.

3. Копченую колбасу тонко нарезать электрической ломтерезкой. Затем нарезать тонкой соломкой.

4. Кефир и минеральную воду взбить блендером, посолить, поперчить.

5. Лук и укроп мелко нарезать. Выложить в кастрюлю все подготовленные продукты, залить кефирной смесью, перемешать. Поставить в холодильник.

6. Разлить по тарелкам, добавить сметану. Перемешать. Можно добавить кубики льда.

Ingredients:

boiled potatoes – 4
smoked sausage – 300 g
fresh cucumbers – 4
radish – 500 g
eggs – 2
green onion – 1 bunch
dill – 1 bunch
sour cream – 4 tbsp.
kefir – 1 ½ liter
sparkling mineral water – 2 cups
ground black pepper – ½ tsp.
salt – ½ tsp.

Preparation:

1. Hard boil, cool, and peel the eggs. Then wash the radishes, cucumbers, and greens. Peel the cucumbers.

2. Peel the potatoes. Then julienne the potatoes, cucumbers, and radishes using a grater.

3. Thinly slice the smoked sausage with an electric slicer and further slice them into thin strips.

4. Mix the kefir and mineral water in a blender. Add salt and pepper.

5. Finely chop the onion and dill. Put all the prepared ingredients in a saucepan, pour in the kefir mixture, and stir. Put in the refrigerator.

6. Pour on a plate and add sour cream. Stir. You may add ice cubes.
Our Favorite Okroshka Videos
This video is from a Russian YouTube channel called "Spasibo Chef" or "Thank You Chef," which is a channel dedicated to food and cuisines from around the world. In this video, detailed steps on how to make okroshka with kvass are explained.
In this video, a Russian grandmother, with slow, clear instructions, shows you how to make okroshka with kefir.