A Performance and Interview with Nazarkyl Seydrakmanov
This past week, SRAS students met with one of Kyrgyzstan's most famous manaschis, Nazarkyl Seydrakmanov. Manaschis are Kyrgyz professional storytellers of the Manas epic poem, the longest epic poem in world history. During this meeting, Nazarkyl discussed his personal life story, the artistry of his craft, and gave an impromptu performance. He was above all else charming and captivating.
Wearing a soft kalpak, or traditional Kyrgyz felt hat, while leaning back into his chair with an unassuming demeanor and gentle smile, Nazarkyl entertained SRAS students for well over an hour at the London School. He patiently answered our questions in Kyrgyz, and maintained friendly eye contact while his answers were translated into English. Now, to be sure, anyone who would so generously give up his time in the middle of the day, in the middle of the week, to talk to American students about a Kyrgyz tradition, would have been a rock star in my book. The fact that Nazarkyl has the title of Best Modern Manaschi in Kyrgyzstan Since Manaschi Legend Sayakbai Karalaeev made Nazarkyl my hero.
Nazarkyl's story is the stuff of manaschi legend. He was born in 1951 in Talas, a small city in western Kyrgyzstan where Manas is supposedly buried. When he was eight years old, he had a dream about Manas, which, for many manaschis, is the equivalent of getting "the call." But he did not think too much of his dream at the time. It was not until a few years later when he was asked to read to the old men in his village newly published versions of the Manas epic poem (it comes in three volumes: Manas, Semetei, and Seiteik) that he returned to the stories of Manas, and discovered he was an exceptional storyteller. He began to memorize the Manas texts. While in the Soviet Army, he told the Manas stories to his comrades. After serving, he returned to his village in Talas and gained the reputation as one of the finest Manas storytellers around. In 1976, at the encouragement of his village, he participated in the "Competition of Manaschis and Akyns" in Bishkek, and won first prize.
Nazarkyl has enjoyed a successful career. For 27 years, he served as a soloist-manaschi at the Kyrgyz State Philharmonia of Toktogul Satylganov, the prime venue for performance artists in Bishkek. He traveled to places like Germany, France, Iran, and Switzerland as the representative of the Kyrygz manaschi tradition. In 1995, he was the guest manaschi at Kyrgyzstan's 1,000-Year Anniversary of the Manas Epic Poem in Talas, his hometown. To date that celebration is still Kyrgyzstan's largest post-independence celebration. Nazarkyl has also performed on the TV program Babalardan kalgan soz ("The Heritage of Ancestors") for three years. Now, at 61 years old, he teaches future manaschis in Bishkek at the Kyrgyz National Conservatory. Only last year, Nazarkul took part in a 41-day festival of manaschis, poets, writers and akyns (Kyrgyz bards) in Sonkol. Evidently, he is not slowing down.
The most impressive thing about Nazarkyl is that despite his world-renowned career, he does not have a flashy personality. He is low-key and calm with an assuring smile that makes others around him feel immediately at ease. As SRAS students did their lightning round of questions during the Q&A session, he leaned back into his chair with almost a look of amusement. Here are some of his answers. They have been paraphrased from the rougher sequential translation.
What makes a manaschi a real manaschi?
A real manaschi has to believe that Manas is real. A real manaschi has to have a pure heart and pure soul. And like any artist or performer, a real manaschi has to work, work, work.
When did you know you "made it" as a real manaschi?
Winning first prize in a 1980s manaschi competition in Bishkek that looked for Kyrgyzstan's greatest modern manaschi since Sayakbai Karalaeev. The competition, which was was organized by the Academy of Science's Department of Research of Manas, was called "Who after Sayakbai Karalaeev can recite the three volumes of Manas." ("Кто после Саякбая Каралаева сможет рассказать 3 тома эпоса Манас").
Who are your favorite manaschis of all time?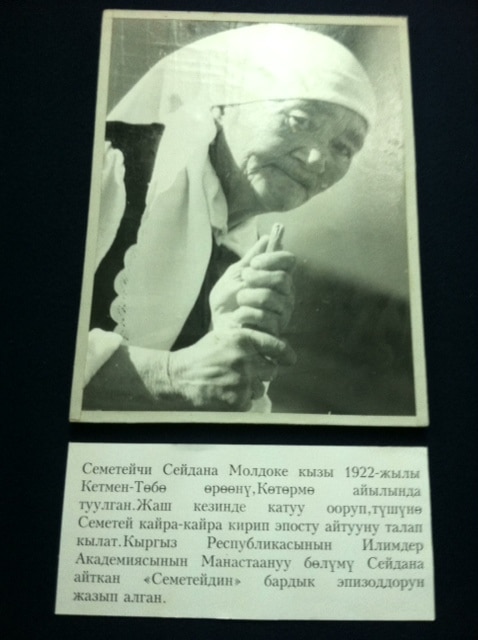 Sayakbai Karaleev (1894-1971) and Seidene Moldokeeva (1920-2006). They had two very different styles. Sayakbai, who was also known as the "Homer of the 20th Century," was emotional, tender, and loud. Seidene, who was one of the few female manaschis, was softer. When you listened to her, you felt like you were sitting on a river bank.
Are there any performance rituals of the manaschis?
Before performing, manaschis can pray to the soul of Manas for protection. Or they can ask the ancestors for help. Sometimes manaschis offer good wishes to the audience. Often they will say, "I wish happiness and prosperity to my country."
Do you have a favorite Manas episode?
No. The beauty of every episode depends on the manaschi himself.
Have you ever forgotten the lines?
It happens. But when it does, you just look around you, laugh with the audience, and then wait for inspiration to return. Losing contact with the spiritual world is like losing cell-phone service. You just have to wait for it to come back. It always does.
In manaschi competitions, what criteria do the judges use?
Manaschis are judged according to voice, performance style, artistry,memorization, tempo, professionalism, and the quality of their answers in response to judges' questions about Manas.
What can manaschis do to not lose their voice?
Manaschis control the musical contours and rhythms of their performances. Manaschis therefore should take care to not sing too fast or too loud. Manaschis should also pray to the spirit of Manas to protect them.
Has your style changed over time?
Of course styles change and develop, not only with time, but with the audience. Everything has to be matched.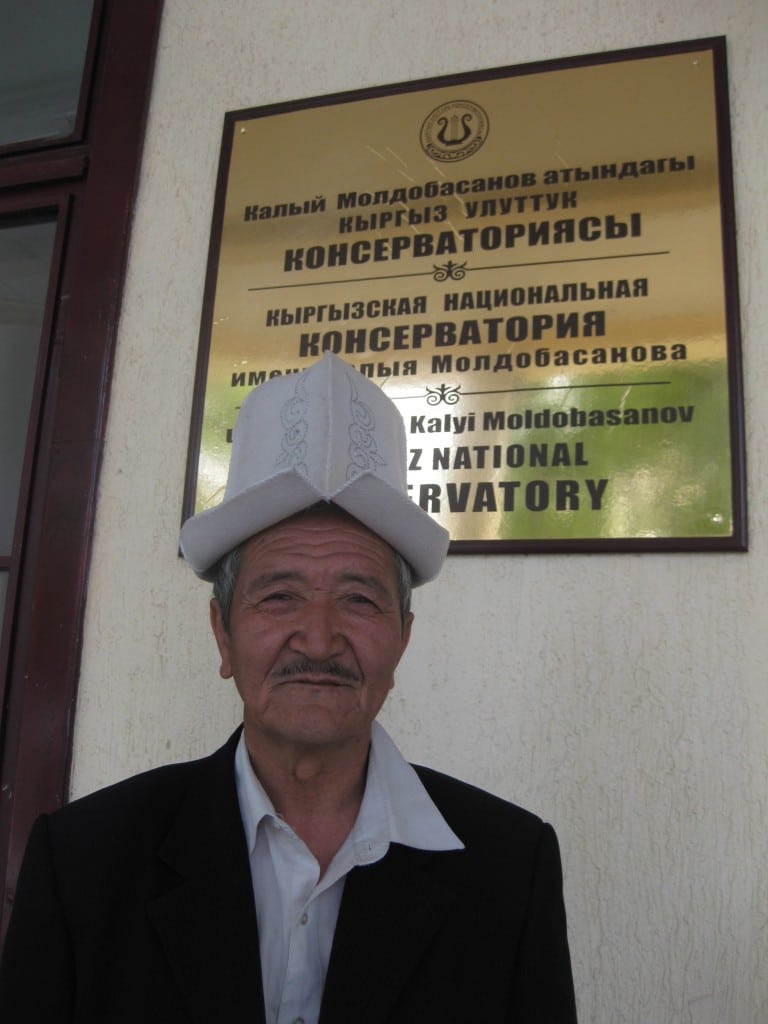 Nazarkyl then gave a short performance from the second volume of the Manas epic, Semetei. (Semetei was Manas' son.) He told a tale of how Semetei's wife, Aichurok, turned herself into a swan, and then stole her husband's falcon. What was really fascinating for us, however, was watching him enter the "zone." It was like watching the face of a runner about to embark on a marathon, or a politician about to make a speech. He wiggled around a bit in his chair first. He laughed nervously. He drank a cup of water. He looked out the window. Then he sat in silence for what seemed like a few minutes. As he did this, I thought about how nice it was that a world-famous storyteller still had some performance anxiety.
But then inspiration struck — manaschis always have to wait for inspiration to strike — and, boom, he dove right in. The energy of the room changed immediately. He gave a rhythmic, pulsating performance, emphasizing every fourth beat with his right fist. First he started softly with a regular tempo. Then he got louder, faster, and the beats became more irregular. Sometimes he stretched the tempo, but then he would pull it back in for a regular beat. Then he stretched it again, only to pull it back in. It was as if he was making musical laghman noodles, stretching those rhythms and then slapping them back on the table with a steady beat.
At the end of the performance, the room burst into enthusiastic applause. Nazarkyl grinned. Then he concluded that an entire life would not be enough time to know or open all the secrets of the Manas epic. Even the ancient manaschis who told the Manas stories for three-month marathons could not cover everything. Indeed, the work of a manaschi is but a "little sand in a large desert."
But Nazarkyl did not show a hint of despair. And for the first time I understood the deep spirituality of the manaschis. Manaschis don't just memorize texts for the sake of art, but for a higher purpose — for the love of Manas, the love of our protective ancestors, the love of a history that defines and unites a people. It is all for love. And if you look into Nazarkyl's face when he performs, that is exactly what you will see.