If you want to better understand a country's government, study its culture. (Если хочешь ближе узнать историю государства, изучай его культурe.) In that spirit, I sat down with one of Kyrgyzstan's top experts on the most important spheres of Kyrgyz national culture — the art of storytelling.
Duishaliev Kamchibek Sharshenovich is a charming music professor from Issyk Kul who has been a professor at the Kyrgyz National Conservatory in Bishkek since it first opened as the Institute of Arts in 1967. (It changed to its current name in 1994.) Sharshenovich is easily one of the most friendly, hardworking, and passionate people you will meet. Given the chance, he will talk for hours about music theory, and in such a relaxed and engaging manner that a tone-deaf person that couldn't distinguish a musical note from an ink stain would listen with rapture. Sharshenovich is also a proud patriot. Though he has a doctorate in music, a long career as a professor of music history and theory, and published more than twelve books on music (especially Kyrgyz national music), he is still looking for ways to serve his country and let the world know about the Kyrgyz arts. He wants his works published in English (particularly a scholarly article he wrote in Kyrgyz on the great manaschi, Sarakbai Karalaev, which was published in Kyrgyz in the academic journal, Vestnik, in 2010.) He wants Bishkek to host more international conferences on musical traditions, and for foreigners to attend them. He wants the world to know about Manas, and the komuz (Kyrgyzstan's national instrument) and the Kyrgyz tradition of the manaschi.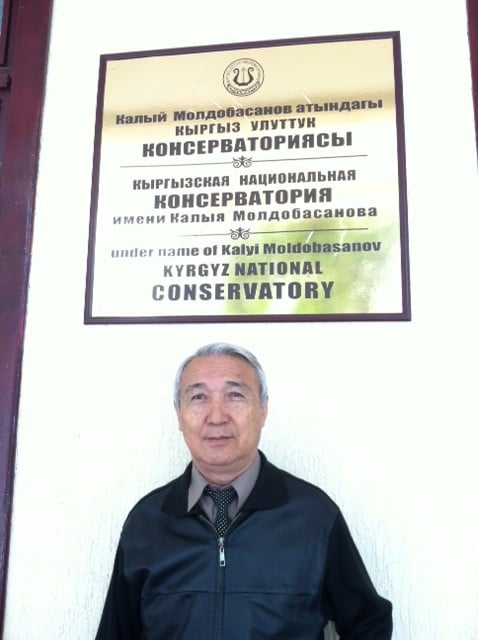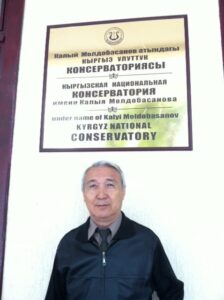 It is therefore not surprising that Sharshenovich took time to meet me on an early Friday morning, in an empty Conservatory classroom (right before one of his classes started) to talk culture. Even more unsurprising is the fact that time just flew by. One of his students had to walk in for class before I realized that an entire hour had passed.
Here are some translated highlights from the interview, which was conducted in Russian. Here, Sharshenovich talks about the importance of Kyrgyzstan's musical traditions, the financial challenges the country faces in bringing Kyrgyz arts to the international world, and the role the Conservatory plays today.
Eirene Busa: Tell me more about the Kyrgyz National Conservatory.
Duishaliev Kamchibek Sharshenovich: Today there are about 1,000 students at the Conservatory, and they come from all over Kyrgyzstan. They all aspire to be professional musicians. To be accepted, they had to have attended a music school. Once accepted, they receive a full government scholarship for their entire five years of study here, including a monthly stipend of 270 som [or about $5.60.] At the Conservatory, students can study both European and Kyrgyz instruments and music. Since the fall of the Soviet Union in 1991, however, Kyrgyz national instruments such as the komuz (three-stringed guitar) and kyl kiyak (two-stringed fiddle) have become more popular with the students, while Western instruments such as the violin and piano have become less so. All students have to buy their own instruments. The price of a komuz can range from 5,000 to 10,000 som [or $104 to $208.] [Note: The average monthly nominal wage in Kyrgyzstan is 7,350 som]. And almost all students live in the school dorms, which is about a 10-15 minute walk from the Conservatory.
EB: Why is it important to preserve the art of storytelling today?
DK: The fact of the matter is Kyrgyzstan's culture is unknown to foreign readers, foreign people, because they simply do not have access to that information. We need to make an effort to open up our national culture so that they know. Of course, our national culture is difficult to understand. But there are some very talented and smart people of Kyrgyz culture who do leave our borders, and they deserve to be recognized worldwide. The manaschi Sayakbai Karalaev is one such person who has raised the level of Kyrgyz culture. Storytellers like him are real creators of culture; real creators of art.
EB: In 2009, Kyrgyzstan was in an uproar when UNESCO added the Epic of Manas it to the Representative List of Intangible Cultural Heritage on behalf of the People's Republic of China. China had nominated the epic on behalf of the 160,000 Kyrgyz living in Xinjiang. What are your thoughts on this?
DK: Of course China thinks that. In China, there are many Kyrgyz. And Kyrgyz-Chinese — or Chinese-Kyrgyz — you know, Kyrgyz who live in China — they have great storytellers such as like Jusup Mamai, who is also a great storyteller, a great manaschi. The Chinese government thinks that Jusup Mamai, who lived a long time in China, is theirs. This is, of course, not correct. The motherland of Manas — that is, the source of Manas — is, of course, here in Kyrgyzstan.
Therefore, what UNESCO did was a mistake. But it was a temporary mistake. They then corrected the mistake because our government asked UNESCO to reconsider. UNESCO looked at this matter last year and reestablished justice. [Clarification: UNESCO is still looking into the matter. It will make a final decision in November 2013.]
EB: How active is the Ministry of Culture in promoting cultural events today?
DK: Of course, the art of the manaschi is a big problem. It is challenging trying to develop and expand it further. But there are competitions, festivals, and conferences.
EB: When was the last government-sponsored event?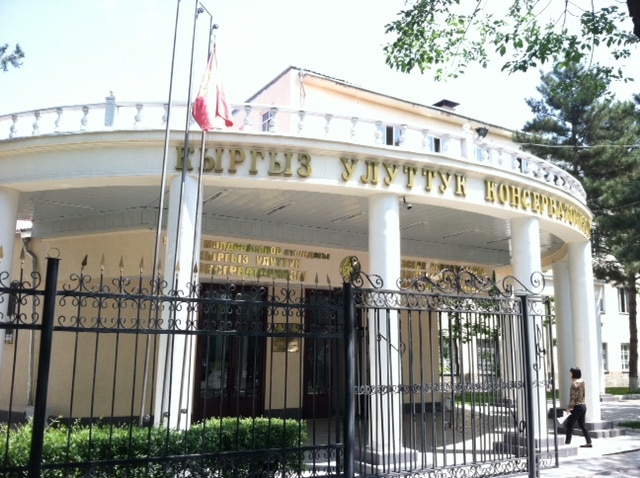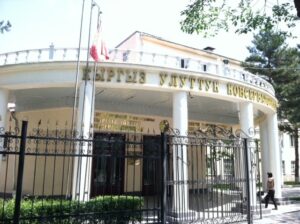 DK: The last one? There was an international conference in Bishkek in 2011 on the epos of Manas. It was about the art of storytelling. Many art and literature professors from Europe, Africa, and Asia attended. However, there were no Americans, probably because they were too far away.
EB: When is the next conference?
DK: It is still unknown.
EB: Does the Kyrgyz government always finance these cultural events?
DK: Yes, the government, the Ministry of Culture. But there is a problem with financing. Therefore, we still don't know when the next one will be.
EB: So it's not every year.
DK: Yes, it's not every year.
EB: Was 2011 the first conference in Bishkek?
DK: No, there were conferences before. I think there were two before. The last one, however — no publications came out of it.
EB: Why not?
DK: Because you need money. It's a pity.
EB: Are there festivals in the US where Kyrgyzstan can participate?
DK: If there are festivals in the States, of course we can participate. But the government will not finance it. We would have to pay for it ourselves. And we have very small salaries.
EB: Maybe there are private organizations that can support you?
Yes, there are funds. But they don't help much. Sometimes they help, but not often. It is very rare that they help.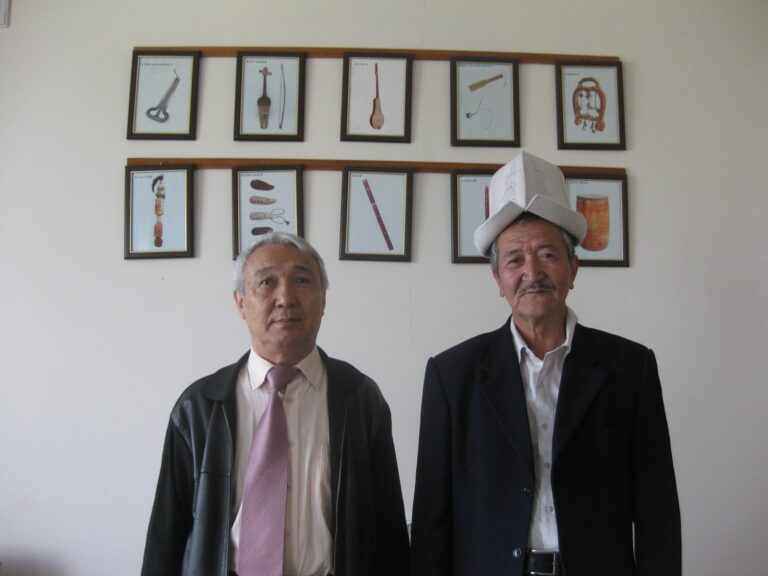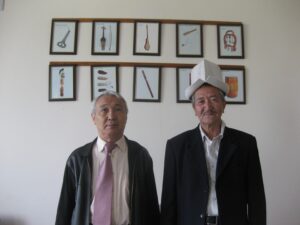 EB: Here at the Conservatory, is it required to study Manas? 
DK: It is not required. But there is a department of folklore. They teach students. There are about 1-2 students who study Manas, and that's it. It's very small.
EB: Do you think the art form of the manaschi is endangered?
DK: The work of a manaschi is an ancient art, which will not die. It will live forever. It will live because people really like it. People really value it. Therefore, storytellers are valued because it is our own. Therefore it will never die. It will always grow and develop.
—-
With that, a student walked in, and I had to turn off my recorder. Before I left, however, Sharshenovich handed me a glossy coffeetable book (in Kazakh, Russian and English) on the dombra, Kazakhstan's national instrument. He picked it up at a recent music conference in Almaty (now, see, why doesn't Kyrgyzstan have a book like this for the komuz?). He also offered to give me a tour of the Conservatory's museum next time. In addition, he fished into his desk to give me a copy of his scholarly article on Karalaev, for my own reference. "Maybe one day it will be published in English," he said with a hopeful smile. And as we shook hands, I smiled back at his infectious optimism. I am confident that day will be sooner rather than later.