The following bilingual Russian MiniLesson is meant to build your vocabulary by providing Russian phrases within English text. Hover over the bold Russian to reveal its English translation.
Международный женский деньInternational Women's Day or восьмое мартаMarch eighth is one of Russia's official holidays, but has a Western происхождениеorigin. It was originally championed in the US and Europe by those working for women's suffrage and socialist causes.
In August, 1910, a Международная женская конференцияInternational Women's Conference was organized to precede the general meeting of the Socialist Second International in Copenhagen. Inspired in part by American socialists, German Socialist Luise Zietz proposed establishing an annual "International Woman's Day." The delegates, 100 women from 17 countries, agreed with the idea as a strategy to promote равноправиеequal rights, including избирательное правоsuffrage for women.
It long did not have a set date across the globe, but was most often celebrated on a Sunday. In Tsarist Russia and America, for instance, it was usually held on в последнее воскресенье февраляthe last Sunday of February. In 1913, Russian women отпраздновалиcelebrated their first International Women's Day on the last Sunday in February according to the Julian calendar, which used in Russia at the time.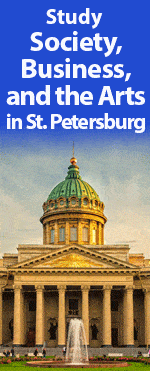 On February 23, 1917 (March 8 according to modern calendars), women in Saint Petersburg went on strike for «Хлеба и мира!»Bread and Peace!, demanding the end of World War I and the food shortages that the war had helped cause. The next day, workers from the Putilov Plant подключились к забастовкеjoined the strike, after which стычки с полициейclashes with the police occurred, and finally всеобщая рабочая забастовка переросла в вооружённое восстаниеthe general worker's strike transformed into an armed rebellion. Февральская революцияThe February Revolution, as it came to be known, was put down, but was seen as a precursor to the Октябрьская революцияOctober Revolution which would topple the tsarist government.
Following the October Revolution, Bolshevik Alexandra Kollontai persuaded Vladimir Lenin to учредить Международный женский день как официальный праздникmake International Woman's Day an official holiday in the Soviet Union, but it was still a рабочий деньworking day. In 1965, March 8th became a нерабочий деньvacation day. In the Soviet Union, this holiday was политизированныйpoliticized, until eventually becoming a day for women to fight против дискриминацииagainst discrimination.
International communists worked to make the day an international holiday, but apparently found international resistance because of the day's connection to the events that helped create the USSR. A story began to circulate, apparently originally from the French Communists, that традиция отмечать Международный женский день 8 мартаthe tradition of celebrating International Women's Day on March 8 began with a демонстрацияrally held on March 8, 1857 by female workers of textile factories in New York в знак протеста против ужасных условий труда и низкой заработной платыprotesting terrible labor conditions and low wage. The women, the story goes, had to be beaten back by police.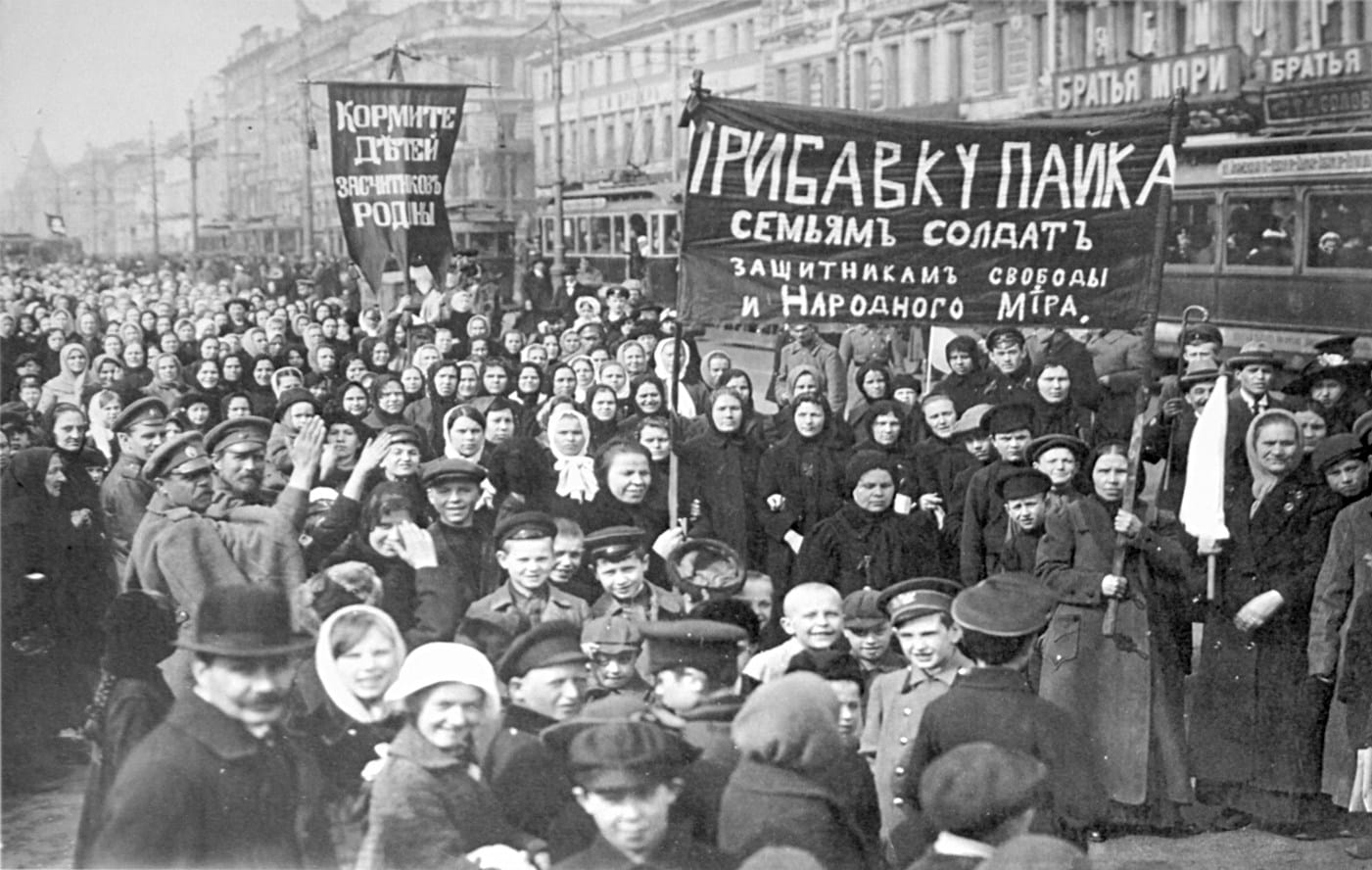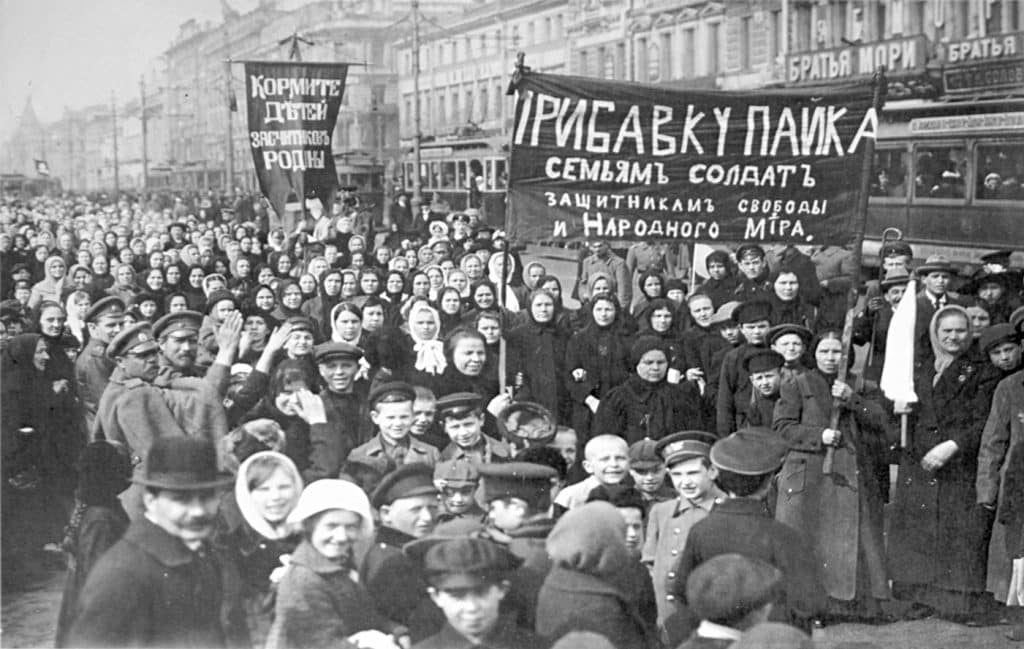 Although there were many protests in New York of the sort described in the story, such a protest did not occur on March 8, 1857. Interestingly, however, the Communist authorities in the USSR began supporting this version – tracing the original roots of the day not to St. Petersburg in 1914, but to the US in 1857 and thus the story is widely accepted the world over.
In 1975, ООН начала 8 марта проводить Международный женский деньthe UN began to honor March 8 as International Women's Day. Every year, they set a theme for the day, focusing on women's rights and issues.
Currently, March 8 is an official holiday in many countries, including throughout most of the former USSR, China, Cuba, and some countries in Africa and Asia. In some countries, the day is not a public holiday, but is широко празднуетсяwidely observed nonetheless.
In Russia, the political side of the holiday has been largely forgotten in favor of a romantic slant. The главный элементkey element of celebrating March 8 is вручение цветов женщинамgiving flowers to women and говорит им комплиментыcomplimenting them. The most popular весенние цветыspring flowers to give are тюльпаныtulips, ирисыirises, гиацинтыhyacinths, ландышиlilies of the valley, сиреньlilacs, and подснежникиsnowdrops. In the Soviet era, мимозаmimosas were a popular flower to give. Точки по продажам цветовoutlets selling flowers significantly increase in number around March 8; in some of them, мужчины сметают весь ассортимент цветов за считанные часыmen will sweep away all the varied flowers in few hours. Studies show that Russians spend, on average, about a half billion dollars on flowers for the holiday. Spending on this holiday accounts for between 15 to 40 percent of Russia's two billion dollar a year flower market.
Many men не скупятся на подаркиare not stingy about gifts and many will идти с женщиной на ужинgo out to dinner with a woman on that day as well. Some men will выполнять домашние обязанностиdo domestic chores as a gift as well. The most popular gifts given on this day include косметика, парфюмерия, одежда, кондитерские изделия, алкоголь, ювелирные украшения, мягкие игрушки, бытовую технику, и электроникуcosmetics, perfumery, clothes, sweets, alcohol, jewelry, plush toys, household appliances, and electronics.
Russia is also not short on holidays celebrating women. Russia also celebrates День материMother's Day, which occurs on the last Sunday of November, but on which it is only принято поздравлять только матерей и беременных женщинcustomary to congratulate only mothers and pregnant women. День материMother's Day. was also only introduced to Russia in 1998 and is not widely celebrated there. Another recent import is День святого ВалентинаSt. Valentine's Day, when Russians дарят подарки своим партнерамgive gifts to their partners. День святого ВалентинаSt. Valentine's Day is quite widely observed, however, and the Moscow metro can be seen overflowing with young men carrying flowers on this day. March 8 is different from both of these holidays because поздравляют всех женщинall women are congratulated on Международный женский день.International Women's Day