The following bilingual Russian MiniLesson is meant to build your vocabulary by providing Russian phrases within English text. Hover over the bold Russian to reveal its English translation.
In the Soviet era, Russians had more limited choice of winter clothes than nowadays. Both men and women used to commonly wear a type of драповое пальто с подкладкой из ватина и меховым воротником woolen cloth overcoat with a cotton-padding lining and a fur collar. If a person wanted to look more fashionable, he/she wore дубленкаsheepskin coat rather than the драповое пальто.
Nowadays, of course, people still wear a зимнее пальтоwinter coat of some sort, but the most popular kind is кашемировое пальтоcashmere coat. Дубленка is popular as a more expensive option, but the most common and cheapest winter coat is пуховикdown-padded coat. These are usually made of a synthetic outer layer, but stuffed with natural down. A thick layer of natural down is a very good insulator and can keep one warm a long time in sub-zero temperatures.
The warmest winter coat, though, is the шуба из натурального меха a coat of natural fur. These are still very common and very popular in Russia, where the anti-fur movement has made little headway in dissuading Russians from what they consider a very practical and comfortable choice of clothing. The second warmest option is the качественный пуховикhigh quality down-padded coat. The дубленкаTooltip content is rated third. The куртка на синтетическом утеплителеjacket with synthetic heat insulation material, while popular in the west, is one of the least practical options for living through a harsh winter.
As for the шуба, when choosing a material, самый тёплый мехthe warmest fur is that of бобер,beaver норка,mink соболь,sable каракуль,astrakhan fur куницаmarten and оленьdeer. The fur of male animals is considered warmer than the fur of female animals.
Качество мехаfur quality can be assessed by встряхивать шубуrustling the fur coat. You should be able to hear the шуршаниеrustling, distinctly, then the fur is considered to be of good quality.
Another way is легонько дёрнуть за шерстинкуplucking lightly on a strand, если волоски не отрываютсяif no hair comes out, it means that the fur is of good quality.
As for пуховик, the warmest пухdown is that of the гага eider duck, then гусьgoose, лебедьswan and уткаduck. Пух из европейских странdown made in European countries is considered to have наилучшие свойстваthe best properties. The best тканьfabric for пуховик is a смесьblend of натуральные и искусственные волокнаnatural and artificial fibers.
In cities, Russians often wear зимние ботинкиwinter boots as winter footwear. These are often leather with a lining of insulation. In smaller towns, villages, and regions of the North, валенки traditional Russian felt boots and унтыhigh fur boots can be seen. Валенки are often fitted with галоши, a protective rubber or plastic outer portion. Designer валенки are also gaining popularity in cities as well. Russian soldiers are outfitted with валенки as part of their standard issue winter uniforms. They are best suited for a сухая морозная зимаdry frosty winter and are generally not worn after the spring thaw begins.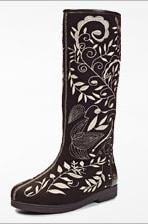 Russians generally favor зимние сапогиwinter high boots Tooltip content made of кожа с внутренней подкладкой из натурального мехаleather with an inner lining of natural fur.
An important principle is that одежда должна быть многослойнойclothes should have many layers. It is better to have два свитера потоньше и одну водолазкуtwo thinner sweaters and one thin turtleneck rather than one very thick sweater. This creates more layers of airs between you and the elements – which is what, in the end, will keep you warm.
Врачи не советуют выходить на улицу голодным.doctors don't advise to go outside hungry In winter, one should повысить калорийность рационаincrease calorie content of diet by adding more meat, fish, and fat.
There are some rules to keep to avoid обморожениеfrostbite. Голова (особенно уши), шея и лицо head (especially ears), neck and face should be защищены шарфом, шапкой, высоким воротом, шерстяной маской, особенно в ветреную погодуprotected with a scarf, cap, high collar, woolen mask, especially in windy weather.
От отморожения нужно беречь конечности, а также нос и уши.To avoid frostbite, one should protect one's extremities, as well as the nose and ears. In frosty weather, more blood is removed from limbs to heart and brain, making the limbs more vulnerable to frostbite.