Окрошка is a cold soup that most often consists of finely-chopped raw vegetables with cooked meats and potatoes in a base of квас (kvass; a beer-like, carbonated, bread-based drink) or кефир (kefir; a buttermilk-like fermented milk drink). Okroshka has considerable versatility in its ingredients and is enjoyed in Russia, Ukraine, Belarus, and other former Soviet countries usually in the hot summer months.
Почему она носит такое название?
Mentions of kvass and okroshka date back to some of Russia's earliest chronicles, with the first being in 1096, when there existed only the roots of what we know today as the Russian state.
Okroshka most likely derives its name from the Old Church Slavonic «крьшити», which in modern Russian corresponds to the verb «крошить», meaning to crumble, break, or chop into small pieces. As in many Russian soups and especially salads, chopping the ingredients to a small, uniform consistency is a large part of the art of its preparation.
Окрошка is classed as a похлëбка (pokhlyobka), which basically means that it can be composed of various and often indiscriminate odds-and-ends that might need to be used up. Окрошка can have everything from mushrooms, meat, fish, eggs, beets, vegetables, and/or even fruit floating in it, depending upon the nationality of the person making it, the occasion, and what happens to be on hand.
Как правильно есть окрошку?
Окрошка is, by and large, a summer dish, as the refreshing and cool квас or кефир that is at the heart of the dish are perfect ways to "beat the heat" (it does get warm during the summer in most parts of Russia, although most Americans would not consider the average temperatures very summer-like). Many also associate the soup with the дача (dacha), the "second home" that many Russians keep as a way to escape the city on weekends and especially during the summer when the дача additionally becomes a place for many to keep gardens that help grow many of the ingredients for окрошка.
Besides its seasonality, there are really no special rules for eating окрошка for the average person. While many consider it a special treat (as the summers are quite short), it is an "everyday meal." However, historically, and for observant members of the Orthodox Church today, certain окрошка variations are eaten at certain times on the calendar. One of the best examples of this is the окрошка eaten during Peter's Fast (the Apostles' Fast). This fast, which begins a week after the День Святой Троицы (Day of the Holy Trinity; in the West often called "The Pentecost"), a date which can range from early June to early July, and ends on July 12 with the feast of Peter and Paul, requires that the observant eat neither meat nor dairy. Thus, the natural solution for the inhabitants of water-rich Russia, which contains more freshwater than any other country on earth, is to eat fish, a shift reflected in the рыбная окрошка (rybnaya okroshka) eaten during this portion of the summer. During the non-fasting portions of the summer, in Russian a rich, meaty окрошка, laced with eggs and often topped with lots of high-fat sour cream is eaten.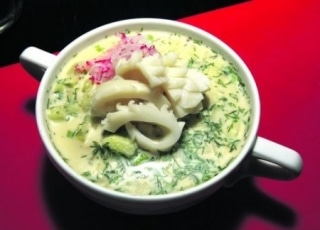 Окрошка is always served cold. Beyond that, there are no unique standards of presentation. Some chefs will garnish it with various ingredients such as sour cream, garlic, horseradish, mustard, one half of a hard-boiled egg, and/or dill; others will serve it "as is".
Как правильно приготовить?
Окрошка, for the most part, is a very simple dish to prepare, and there are few pitfalls into which one may fall during the preparation. Classic окрошка is dominated by boiled eggs and potatoes as well as diced bologna and cucumbers. It is served in квас or кефир and seasoned with dill and/or green onion.
The debate on whether квас or кефир is an intense one, with Russians usually being solidly in one camp or the other. Квас appears to be the older and likely more traditional choice for Russian culture, while recipes using кефир are generally associated more with Central Asian, Eastern European, and Caucasian cultures. Some Russians point to the old Russian belief that mixing dairy products and cucumbers (a common ingredient in окрошка) is bad for the digestive system. However, both variants of the soup can be easily found across Russia.
Other, less common regional variations include using cooked beets in the recipe (found in Ukraine and the Baltics) or adding walnuts (associated with Bulgaria). In Azerbaijan, овдух (ovdukh) is a variation of окрошка usually made with boiled beef and exclusively made with кефир rather than квас. In Uzbekistan, чалоп is local version made with a sour-milk product called "катык" and is usually meatless.
If one chooses to use квас, care must be taken in which type to use.Most store-bought квас is too sweet for producing good окрошка. Traditional квас is, on the contrary, rather sour, a hallmark of the painstaking brewing process. This sourness contrasts beautifully with the saltier notes of the vegetables and/or meat in окрошка and helps to pull the dish together.
There are also several different types of traditional квас, including even a very concentrated version used in past centuries for skin treatments. The two main divisions, however, are квас белый (kvas beliy; white kvas) and квас красный (kvas krasniy; red kvas). Белый квас is simpler, less processed, and less sweet, having undergone a much less rigorous heating process than красный квас, and making it the best of the квас family to use for making an окрошкa. In Belarus, a version of квас is made using beets and is popular for the local окрошка there. For more on квас (and how to make your own!) click here.
It is interesting to note that all forms of окрошка have ingredients similar to those of Olivier Salad (салат «Оливье»). For more on that traditional Russian salad, click here.
Last, but not least, make sure to remember that the adding of the кефир or квас is actually the last step in making the окрошка! The texture of the dry ingredients would be irrevocably changed to a soggy mass were one to add them to the окрошка rather than the other way around. It is possible to make batches of "dry" окрошка and keep it chilled in the refrigerator for a few days (some argue that chilling it at least overnight improves the flavor) and then you can scoop out servings and add кефир or квас as needed.
Давай приготовим!
Окрошка классическая
Classic Okroshka 
Ингредиенты

1,5 л кваса
2 яйца
1 ч. ложка горчицы
1 ст. (без верха) ложка сахара
хрен по вкусу
2 свежих огурца
150-200 г зелёного лука

На выбор один или несколько из следующих:

200 г варёной говядины, или
120-150 г варёной телятины, или
100-150 г ветчины, или
150 г жареной мякоти дичи, или
200 г жареной или отварной телятины, или
200 г варёной мякоти рыбы (лучше разных видов)

1/2 стакана сметаны или 4 ст. ложки растительного масла
пучок укропа

Приготовление

Сварить вкрутую яйца, остудить, отделить белки от желтков. Желтки положить в миску, где будет готовиться окрошка, растереть с горчицей, сахаром, солью и хреном (по вкусу) и смешать с половиной стакана кваса.
Мясо мелко изрубить и положить в миску с заправкой. Туда же мелко искрошить огурцы, зелёный лук, белки яиц.
Влить в миску 2 стакана кваса, хорошо, но осторожно размешать, слить в посуду с плотной крышкой и на 2-3 ч. поставить в холодильник.
Перед подачей влить в окрошку оставшийся квас. В тарелку с окрошкой положить ложку сметаны или растительного масла и зелень. Сметану нужно быстро и хорошо помешать, чтобы она не свернулась.

Ingredients

1.5 liters kvass
2 eggs
1 tsp. mustard
1 level tbsp. sugar
horseradish (to taste)
2 fresh cucumbers
150-200 g. (1/3-1/2 lb.) green onions

One or more of the following:

200 g. (no more than ½ lb.) boiled beef
120-150 g. (no more than 1/3 lb) boiled veal
100-150 g. (no more than 1/3 lb) ham
150 g. (1/3 lb) baked chicken (or poultry)
200 g. (no more than 1/2 lb.) baked or boiled veal
200 g. (no more than 1/2 lb.) boiled fish

1/2 cup sour cream or 4 tbsp. vegetable oil
fresh dill, chopped

Preparation

Hard-boil the eggs; after they cool, separate the yolks. Place the yolks into the bowl where the okroshka will be prepared. Mix the yolks with mustard, sugar, salt and horseradish (according to taste). Stir in a 1/2 cup of kvass.
Finely chop the meat and add it to the bowl with the seasonings. Finely chop the cucumbers, green onions, and egg whites and add to the mix.
Pour 2 cups of kvass into the bowl, stirring well but gently. Finally, pour the contents into an air-tight container and refrigerate 2-3 hrs.
When serving, add the remaining kvass to the okroshka. Garnish with a spoonful of sour cream or vegetable oil, and some chopped fresh dill. If garnishing with sour cream, be sure to mix it in swiftly and thoroughly, so it does not curdle.
Окрошка постная с солеными грибами 
Meatless Okroshka with Pickled Mushrooms
Ингредиенты

2 литра белого кваса
200 солёных грибов
3 небольших свежих огурца, очищенных от кожуры
1 мочёное яблоко, очищенное от кожуры и семечек
зелёный лук
укроп
хрен тёртый

Приготовление

Все ингредиенты мелко нарезать, потолочь деревянной толкушкой и залить квасом.

Ingredients

2 liters of white kvas
200 pickled mushrooms (for additional information on Russian
pickles, including steeped apples, click here)
3 small fresh cucumbers, skin peeled
1 steeped apple, skin peeled and seeds removed
Green onions
Dill
Prepared horseradish

Preparation

Finely cut up all of the ingredients, crush them up with a wooden pestle, and pour on the kvass.
Окрошка рыбная
Fish Okroshka
Ингредиенты

1.5 л белого кваса
300 г припущенной рыбы
3 свежих или малосольных огурца
зелёный лук
укроп
петрушка
хрен или горчица
соль

Приготовление

Рыбу для окрошки надо брать нежирную, лучше всего припущенный в воде свежий судак или треску. Зелёный лук, укроп да петрушка, свежий или малосольный огурец – мелко режутся, посыпаются солью и слегка разминаются деревянной толкушкой. Белый квас сдабривается хреном и подсаливается. Рыба разделывается на небольшие кусочки, уже без кожи и костей, перемешивается с давшей сок зеленью и заливается квасом.

Ingredients

1.5 liters white kvass
300 grams stewed fish
3 fresh or mildly-cured cucumbers
Green onion
Dill
Parsley
Horseradish or mustard
Salt

Preparation

You should procure a non-fatty fish for this окрошка, best of all fresh pike, perch, or cod, stewed in water. Take green onion, dill and parsley, fresh or mildly-cured cucumber – cut finely, sprinkle salt and lightly work on them with a wooden pestle. Flavor the white kvass with horseradish and salt. Divide the already skinless and boneless fish into small pieces, mix up with the juice given off by the vegetables and pour in the kvass.
Our Favorite Videos about Okroshka
Very good basic video on окрошка preparation. Takes you through step-by-step in very clear, deliberate Russian. Sure makes us want to try some!
Vladimir Zhirinovskii, the colorful leader of the Liberal Democratic Party of Russia, makes the largest batch of окрошка on record! He also shares an interesting secret to his окрошка recipe. Notice that he mentions the importance of the type and quality of квас used.
Окрошка is also a common addition to the summer menus of many restaurants in Russia. The food-store chain "У Палыча," which specializes in freshly-prepared salads, cakes, and other ready-to-eat or partially-prepared food items also offers окрошка during the summer months. Here is a highly ethereal Internet commercial they offer for their product.