This holiday was initially instituted to honor women workers in USSR. On March 8, 1917, women marched in St. Petersburg, demanding bread, better working conditions, and an end to WWI. The march became violent, but soldiers refused to shoot at the women. It was one of the moments that eventually precipited the February revolution that would bring the Bolsheviks to power. Another effect was that, a few days later, on March 19, 40,000 women marched through St. Petersburg to demand the right to vote. They held long, but eventually successful, negotiations with the head of the provisional government that night. The day was first celebrated in St. Petersburg in 1913, but it would not become an official state holiday and day off until 1965. Today is wildly popular and see massive amounts of flowers, candy, and small presents bought as it is expected of women to honor all the women in their lives on this date. Read more about its history in this Russian MiniLesson.

---
Rebekah Welch, Kyiv, 2017
Rebekah Welch is a senior at University of Montana in Missoula. She is a double major in Russian and Journalism with an emphasis on photography. She is studying Russian language at NovaMova in Kiev, and am also working for the school as an intern, creating a photoblog. After a semester abroad, she hopes to become fluent enough in Russian that she can work as photojournalist throughout Russia, Eastern Europe, and Central Asia. Although she loves this area of the world, she has a passion for journalism and will go wherever the story takes her.
---
Perhaps no one in the world takes the celebration of the 8th of March, International Women's Day, as seriously as those in Kyiv. It makes sense that the day is especially heralded in Ukraine and Russia, as it was a popular Soviet holiday honoring women workers. In 1917, women textile workers in St. Petersburg went on strike for "Bread and Peace," calling for an end to the war, and end to the famine, and end to tsarism. A week later, Tsar Nicholas II left the throne, and the provisional government granted women the right to vote. Later, the USSR also granted women the right to vote. Thus, I knew that there would be no school on the 8th, and, being from America where the holiday isn't exactly a "holiday," as much of a day of observance, I was plenty excited about the simple prospect of a day off. I did not expect any additional gratuity to be paid for my gender. I was mistaken.
An administrator of NovaMova, the Russian language school at which I study, asked me to be present at an office party on Tuesday, the 7th, at 11:30 am. I didn't yet make the connection with the upcoming holiday. When I left home Tuesday morning, however, I started to realize that this was no President's day, where everyone forgets the point of the holiday and is grateful for a day off. No ma'am. This was something else entirely, a 2-day celebration, which, at 10:30 am, was already well underway. There were twice as many flower stands as usual, a sea of roses, tulips, and vendors surrounded the metro entrance. There were merry, rosy-cheeked, work-bound businessmen on the metro, carrying their briefcase in one hand with a bottle of vodka or champagne and chocolates in the other. People smiled at me at said "Spraznikom!" (happy holiday) in Aroma Kava, a fast-paced, frantic, and never friendly coffee shop where I often stop for espressos on the way to class. The fun of this day was serious business, and it wasn't even the holiday yet.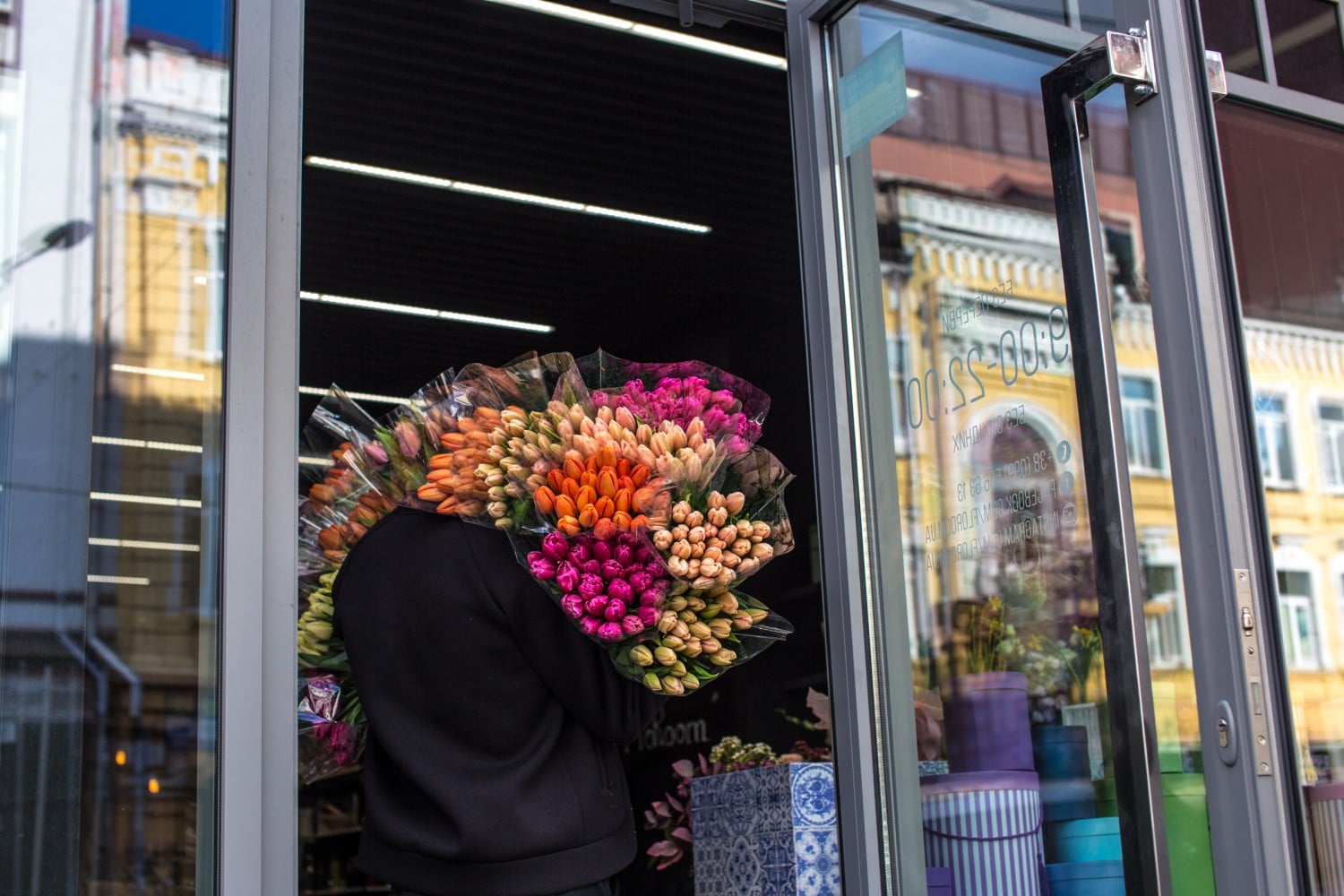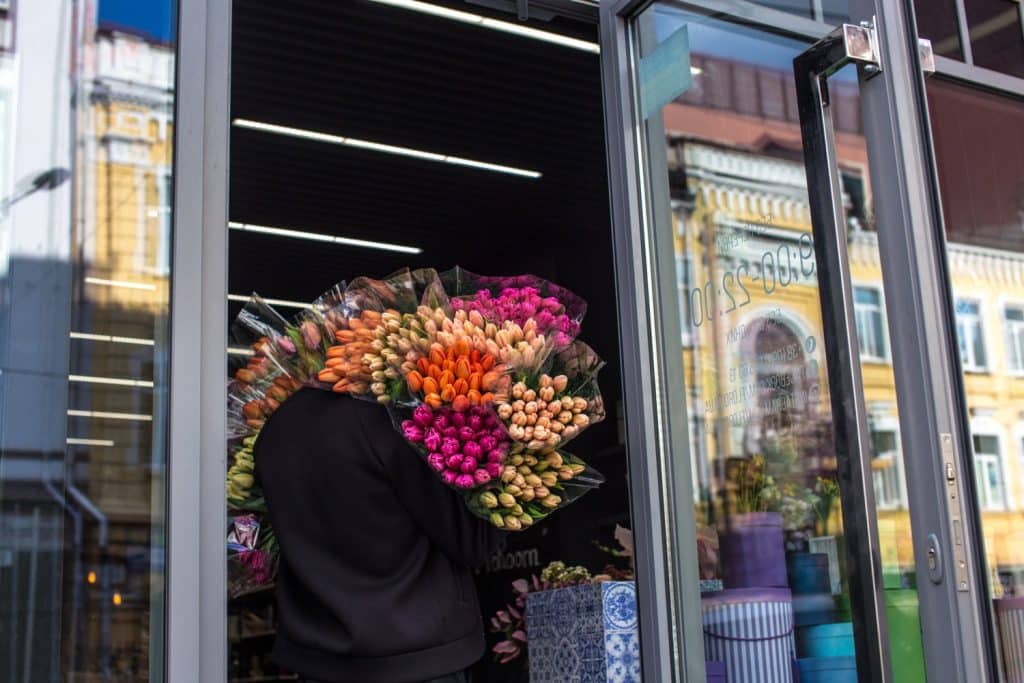 Of course, when I got to school, the "office party" that the nice administrator had requested I photograph was a little more exciting than those two words normally imply. When I arrived, she was hauling arranging two enormous bags of chocolate goodies on platters, and a second was carrying in six bottles of champagne. I feel the need to include the fact that NovaMova does NOT have a very large student body at the moment, either.
When everyone arrived, one of the teachers made a very heartfelt little speech about how much the women of NovaMova are appreciated, students included. The co-founders were absent on a business trip, but had purchased a box of cookies and meringues for every woman present. Then there was candy. And then there was champagne. Lots of champagne. Let me just say, if ever you have the opportunity to drink alcohol at a school function with your teachers, particularly if your teachers are adorable Ukrainian women, go for it. By the end of that party I had been kissed on the cheek 5 times, felt a bit like I was partying with my aunts at brunch. What I particularly enjoyed was that my lessons had been switched to the afternoon that day, meaning that as I watched both tutors get silly, I was looking forward to how our lessons would go in an hour.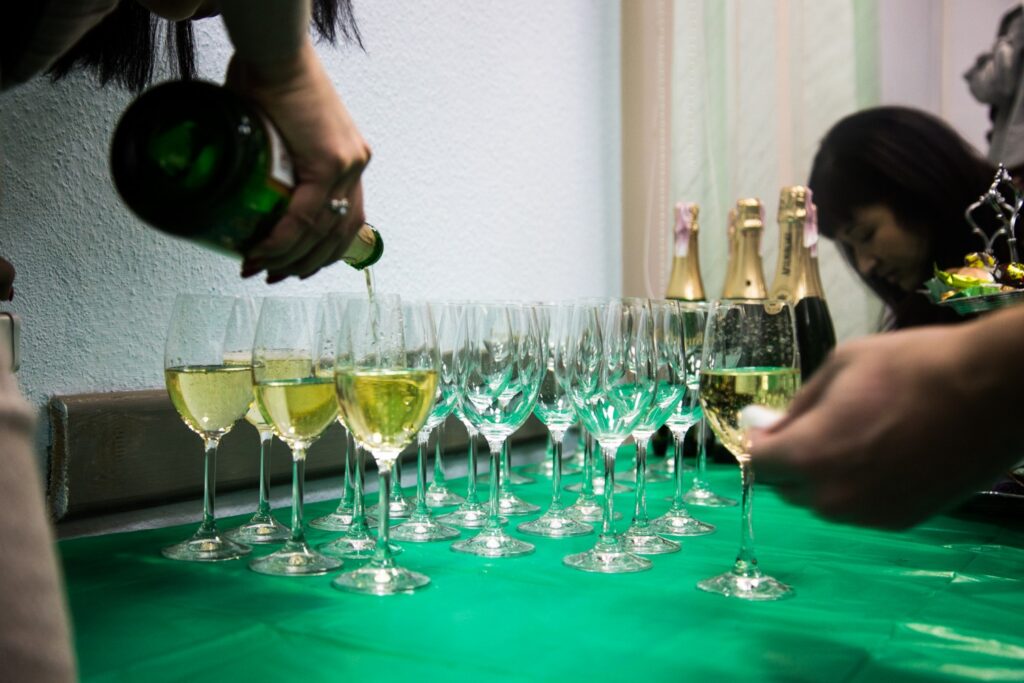 Now here's the thing. As much as I wanted to fully appreciate the gleeful celebration, I have to admit, as an avid consumer of news, at first, I couldn't help but feel, well, guilty. Getting buzzed on champagne and eating expensive chocolates from my male bosses on International Women's Day while I knew there were women's marches happening all over the world. The thought was sobering, and I feared this Valentine's like celebration might cause the Soviet Woman protesters in Petrograd 100 years ago to cringe in their graves. When I got a chance to express this concern as tactfully as I could to one of the more spunky women of NovaMova, she responded without missing a beat, "Duh, it's the 7th, why do you think we're having the party today? There's a women's march tomorrow." Protests for social change, AND champagne. They know how to do it in Ukraine.