Tucked away in the outskirts of Kyiv, in the Holiivs'ki district, lies St. Pantelemion's Cathedral and Feofaniya Park. This place makes for a great day away from the hustle and bustle of the city.
First, be sure to step inside and admire the beauty of St. Pantelemion's Cathedral. When looking at the gorgeous iconography, don't be fooled by the new appearance. The cathedral itself has an interesting history.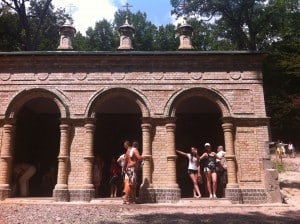 It is named for St. Pantelemion, an early Christian proselytizer who studied medicine but become widely revered as a faith healer. E. F. Yermakov, a famous architect, built the cathedral in 1912. Eight years later, the Soviet authorities closed it down. During World War II, it suffered severe damage, and after the war the cathedral was used as a laboratory for the Academy of the Sciences. It's even believed that the first Soviet computer was designed here. In 1990, the building was given back to the Ukrainian Orthodox church, and the next eight years were spent restoring it. It is now a working convent.
From there, head to the beautiful Feofaniya Park, located just down the road. It is named for Bishop Feofaniya, who, in the late 18th and early 19th centuries, was instrumental in strengthening the local Orthodox Church and in helping to settle and develop the area in which the park now resides. The park offers beautiful paths for taking a stroll and small lakes to take a swim. The place is perfect for a picnic.
Be sure not to miss the park's pilgrimage trail. From there, you can go to two water springs, where it is believed that the water is holy. Personally, I was fascinated with how many people were there to fill up jars and bottles with this water. The first spring is small, and it is just used to fill water bottles. Further on the trail, you'll discover the spring called "Tears of the Mother of God," which flows into a large plastic tub that people bathe themselves in. According to legend, the mother of God shed tears here, and that is why the water is believed to have healing capabilities (and a salty taste).
Two Ukrainian friends I made while in Kyiv on a program from SRAS took me on a wonderful adventure to this complex. They even got me to get into the bath, and I must admit, bathing in holy water is something I had never imagined doing. Looking back, this day ended up being one of my favorites of the summer. Through the warm hospitality of new friends, I not only saw a side of Kyiv I didn't know about, but also got a personal experience I will forever cherish!
St. Panteleimon Cathedral & Feofaniya Park
Собор Сятово Пантелемона и Парк Феофания
ул. Академика Лебедева, 32, Киев
Take the metro to Lybidska, take marshutka 548 to the park