For some, traveling abroad can be as much a spiritual journey as a physical one, and tourists are often encouraged to visit religious relics and places of worship for their history, culture, and architecture. For me, a practicing Catholic who has now spent a couple of months living in Kyiv, this internship/study abroad experience has been an avenue of growth and development in faith that I could not have anticipated. Two Catholic churches here in Kyiv which have positively contributed to this are St. Nicholas's Roman Catholic Cathedral and St. Alexander's Catholic Church.
The first churches and services I experienced upon my arrival in Kyiv were of the Orthodox rite, the most common practice in Ukraine. While I appreciated the gorgeous buildings, elaborate icons, reverent music, and traditional customs, I simply couldn't understand or personally identify with the Orthodox method of worship (not to mention making the sign of the cross right-to-left rather than left-to-right simply felt backwards). Consequently, I sought "home" in the Catholic resources of Kyiv, and I was impressed by the size and convenience of both St. Nicholas's and St. Alexander's, the two largest Catholic Church communities in the city.
St. Nicholas Roman Catholic Cathedral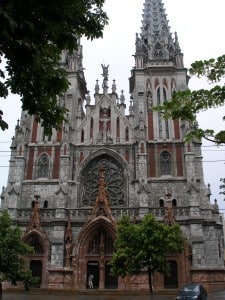 The St. Nicholas Roman Catholic Cathedral is located just a few blocks south of metro station Олiмпiйська (Olimpiiska), and its Gothic architecture with two elaborate 60-meter towers set it apart from the surrounding buildings. Construction of the church lasted ten years, from 1899-1909, and work was carried out solely from voluntary private donations after engineering student Stanislav Volovskiy won a competition for the church's design in 1898. Design revision and building supervision was entrusted to famous Kyiv architect, Vladislav Gorodetskiy, and the cathedral was consecrated in the name of St. Nicholas in 1909, before construction was completed. In 1938, after the cathedral's resident priest was "absent" for two years because of Soviet persecution of Christians, Soviet authorities closed the church. The cathedral was subsequently used as a house for technical work on organs and also functioned as a KGB service building. It was renovated in 1979-1980 and officially deemed the National House of Organ and Chamber Music of Ukraine by the Rada of Ministers of the Ukrainian SSR.
The building currently belongs to the Kyivan Municipal Department for Culture, but Mass has been regularly celebrated there since Bishop Jan Purvinski consecrated the cathedral and celebrated Mass at the church in January of 1992. Priests of the Missionary Oblates of Mary Immaculate currently preside at Mass and conduct other services for St. Nicholas's, while the House of Organ Music regularly presents concerts in the cathedral.
Although I am not fluent in Ukrainian, I have felt very much at home at St. Nicholas's. The familiarity of the universal Mass is a comfort and solid foundation from which to experience the unfamiliarity of Kyiv and Ukraine, and the flying buttresses, straight-backed chairs, hard-wood floors, colorful stained glass windows, grand pipe organ, and elevated chandeliers create a majestic environment for worship. The community has been very welcoming, the music has been gorgeous, and the Masses have been conducted in the standard practice.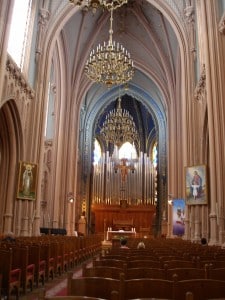 A few things to note about St. Nicholas's:
(1) This community practices intinction of the Eucharist.
(2) One week, I accidentally attended an hour-long group adoration before Mass, and Mass began an hour later than I the time I thought it would begin. All other weeks Mass started at the posted time (the Mass schedule is displayed on a board at the cathedral's entrance). I don't know why that hour of adoration took place when it did; it could be a periodic practice or a unique occasion. Either way, it was a moving experience, and I would recommend attending adoration at St. Nicholas's if you have the opportunity to do so.
(3) St. Nicholas's is located very close to the Olimpiiska National Sports Complex, and it is not uncommon for sporting events to coincide with Mass or other services. When large soccer matches take place, Олiмпiйська (Olimpiiska) metro station is temporarily closed, and metro trains are re-routed, so you'll have to weave through the rivers of pedestrians to the next nearest stations: either Плоша Льва Толстого (Ploshcha Lva Tolstoho) to the north, or Палац «Украïна» (Palats "Ukraina") to the south.
The schedule can be found on thier website homepage, which is only in Ukrainian, but the schedule is still basically clear. Feel free to Google-translate it if you need. Check the site for the National Organ and Chamber Music Hall of Ukraine.
St. Alexander's Church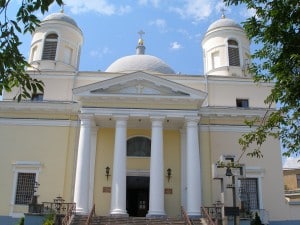 St. Alexander's Church is the oldest Roman Catholic Church in Kyiv, and it is situated atop a hill one block north-west of Independence Square (Майдан Незалежності), and one block west of European Square (Європейська Площа). In 1815, Emperor Alexander I granted permission for the construction of a Roman Catholic Church in Kyiv for the region's 46,000 Catholic residents who lacked a place for worship. Erection of the church was financed by the Polish gentry and lasted from 1817-1842.
The building's simple, clean architectural lines, domed roof-line, and columned entrance reflect the era in which it was built, and the interior displays a large crucifix imported from Italy as well as a replica of Raphael's Madonna. St. Alexander's Church was closed during the Soviet era and temporarily housed a planetarium and library. In 1994 the church was renovated, and three years later it was returned to the Roman Catholic community.
The church has been undergoing internal renovation during my two-month stay in Kyiv, but services have still taken place around the scaffolding and drop-cloths. While St. Alexander's doesn't display the same detailed elegance of St. Nicholas's grand atmosphere, the older church does provide Mass in both English and Russian (St. Nicholas's does not provide services in these languages). I enjoyed a Russian-combined-with-Latin Mass last week, which included music provided by a three-part polyphonic choir, and the experience was both unique and true to the traditional Catholic rite.
The schedule can be found on thier website homepage, which is only in Ukrainian, but the schedule is still basically clear. Feel free to English-speaking community of St. Alexander's Catholic Church website Google-translate it if you need.
While photography inside the building is not encouraged, the church offers low-price souvenirs and personal reflection/prayer aids. Whether you're Catholic or not, a visit to St. Alexander's is well worth the little trek up the steep hill on which it rests.
Both St. Alexander's and St. Nicholas's have helped me recognize the universality of the Church and grow in appreciation of the Faith while actively practicing it here in Kyiv. They can be valuable anchors of "home" for any Catholic visiting Ukraine.