I have always admired the "one cook, one dish" tradition. To paraphrase food critic Anthony Bourdain, this is the tradition where one lone artisan, or family of artisans, makes the same wonderful dish year after year, generation after generation, and by doing so, forms a close identification with the dish that ensures it is always fresh and tasty. This is probably why I love food trucks that only do French fries, bulgogi, or Mac N Cheese; or franchises that only specialize in Peruvian chicken or hamburgers. A simple menu prepared with passion is almost always a winning formula.
This past Friday I found an teahouse in Bishkek that fits this business model: Chaikhana Adish-Ata (literally, The Teahouse of Father Adish, a traditional Kyrgyz name), which prepares one dish, and one dish really well — tandirnaya samsa, or a meat-filled pastry (the samsa) baked in a cylindrical clay oven (the tandir). The pastry is actually thrown against the wall of the inside of the tandir, where it sticks, cooks, and then is carefully extracted when juicy and golden.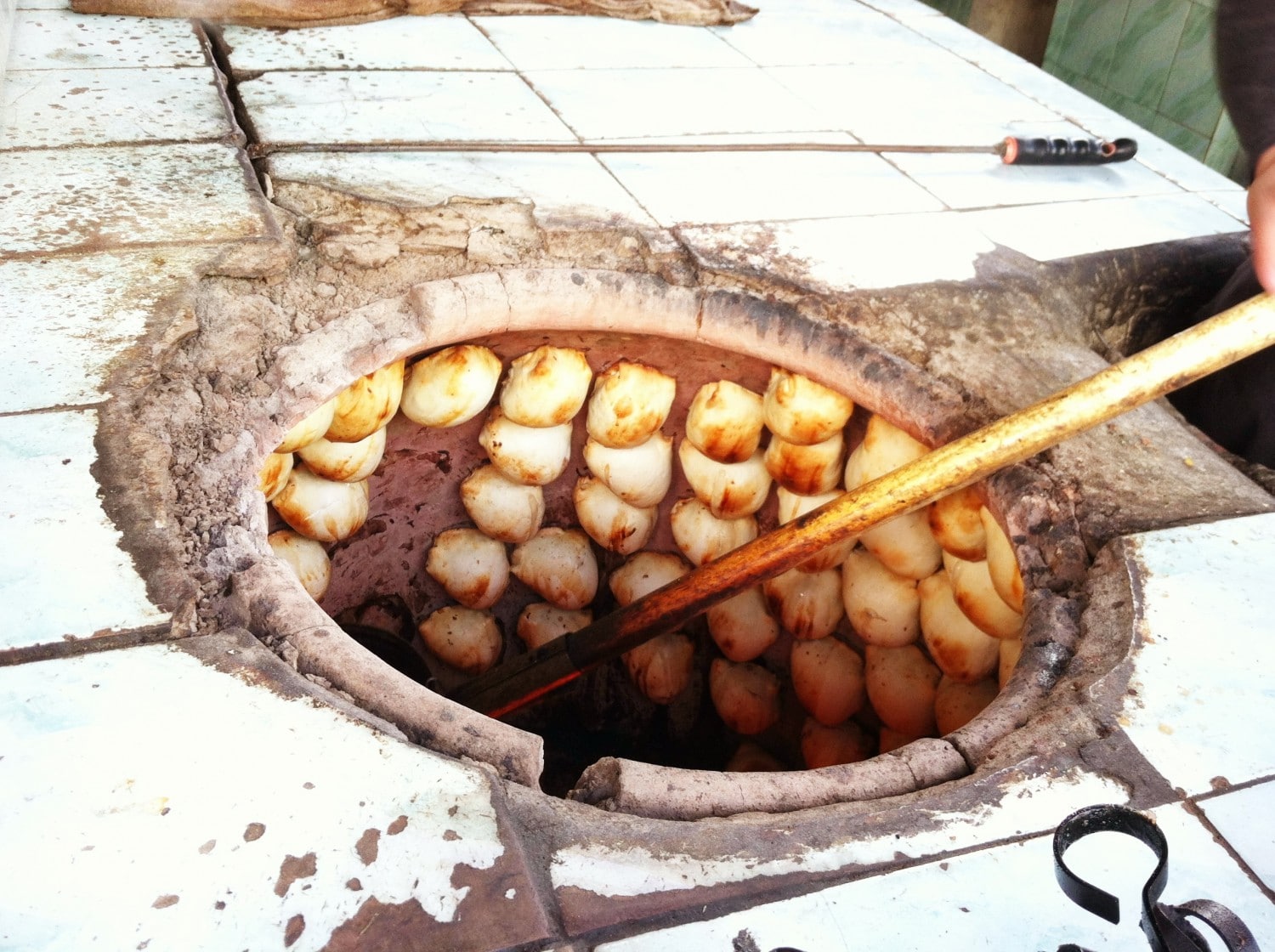 While there is no shortage of street samsa in Bishkek (you can pretty much find samsa every other block, for about 20 som on average), this chaikhana offers samsa Uzbek-style — so, samsa that is bigger, rounder, saltier, more golden, fired up in a tandir, and usually eaten with a knife and spoon because of the meat broth that will pour out of it when you cut it open. In case you forgot, samsa is first and foremost an Uzbek dish (pronounced in Uzbek "somsa," unlike the Kyrgyz "samsa"), and it is a cuisine of historically settled peoples who have long used ovens, unlike the nomads of Kyrgyzstan and Kazakhstan, who do most of their cooking in pots over fires.
Though Chaikhana Adish-Ata's owner is Kyrgyz, its head chef is Uzbek. Not surprisingly, Chaikhana Adish-Ata is a popular hot spot in Bishkek with Uzbeks and with Kyrgyz people from Uzbek-influenced southern Kyrgyzstan. I believe it is a testament to the "one cook, one dish" tradition that this place has fared so well, considering it opened one year ago. The samsa keeps people coming back, and is the reason why the once-bare-bones café of a year ago is now a massive complex with a main indoor dining area, expansive outdoor courtyard where there are covered and uncovered topchans (dining bed-tables), and private rooms for big parties. Just look at what the diners around you are eating. Only one item in the dining area is glorified here, despite the menu's other offerings. Diners spoon the meat from their samsa, sip the broth from their samsa, slice through their samsa, blow on their samsa, crunch the bread of their samsa, wipe crumbs from their samsa off themselves, and then eagerly await another portion of samsa.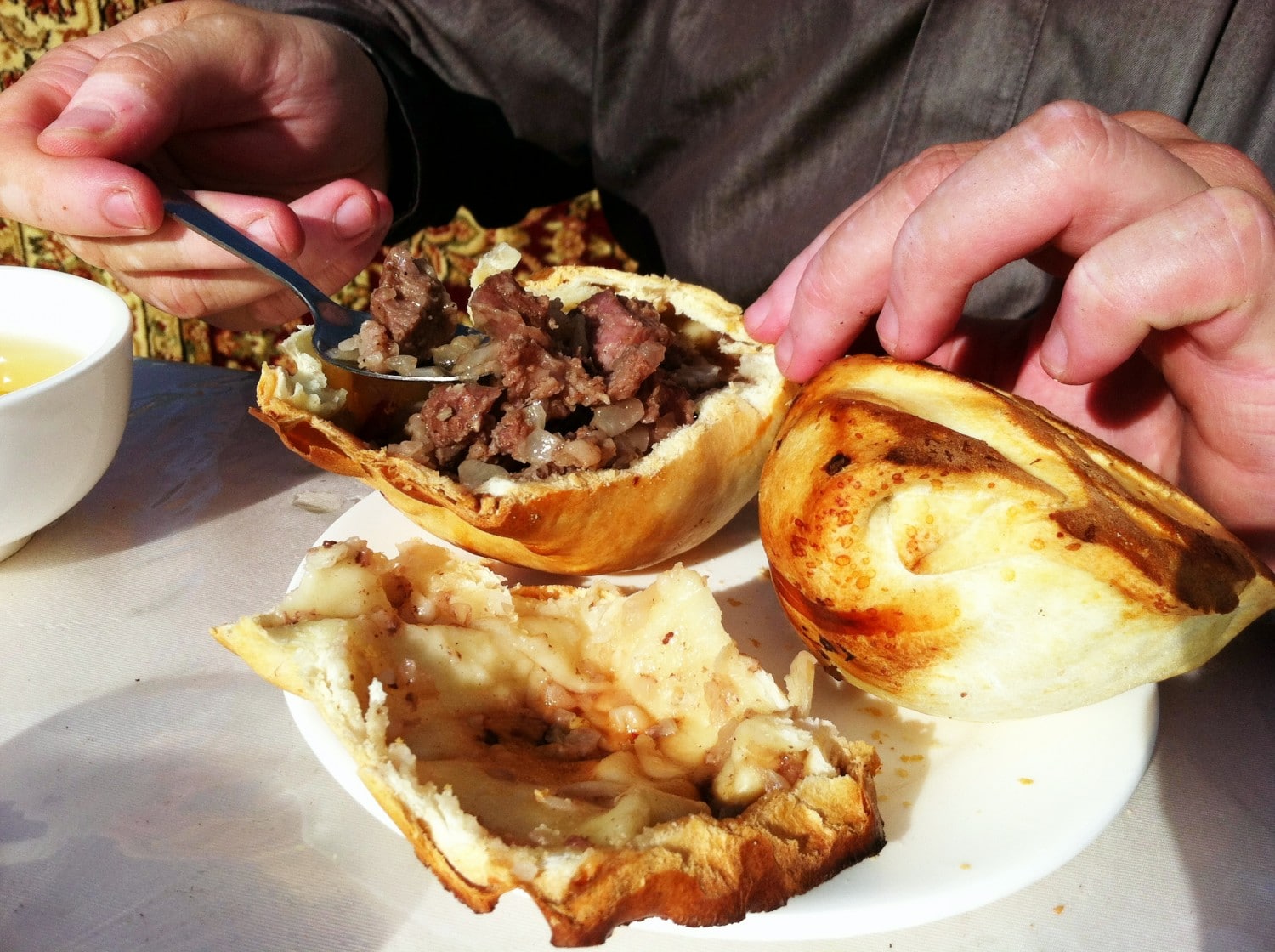 Here is the proper way to eat tandirynaya samsa. First, turn the lopsided blob upside down so the crunchy, hard part (the part that was stuck to the tandir) is facing up. Then, take a sharp knife and slice the hard crunchy roof off so you can create a little bread bowl. This part can be difficult, especially if the samsa is fresh off the tandir, which can get up to 900 degrees Fahrenheit. But you have to hold it down with one hand so your samsa doesn't fly off your topchan like a hockey puck. Afterwards, spoon the meat mixture from the bread bowl. There are many versions of samsa, mine was mutton and onions. Some diners also spoon the meat mixture onto the bread roof, and eat that with their hands, which can be an awfully satisfying experience. Lastly, pair the samsa with hot green tea, the traditional Uzbek drink to wash down fatty, greasy foods such as mutton and horse (which are both greasier than beef).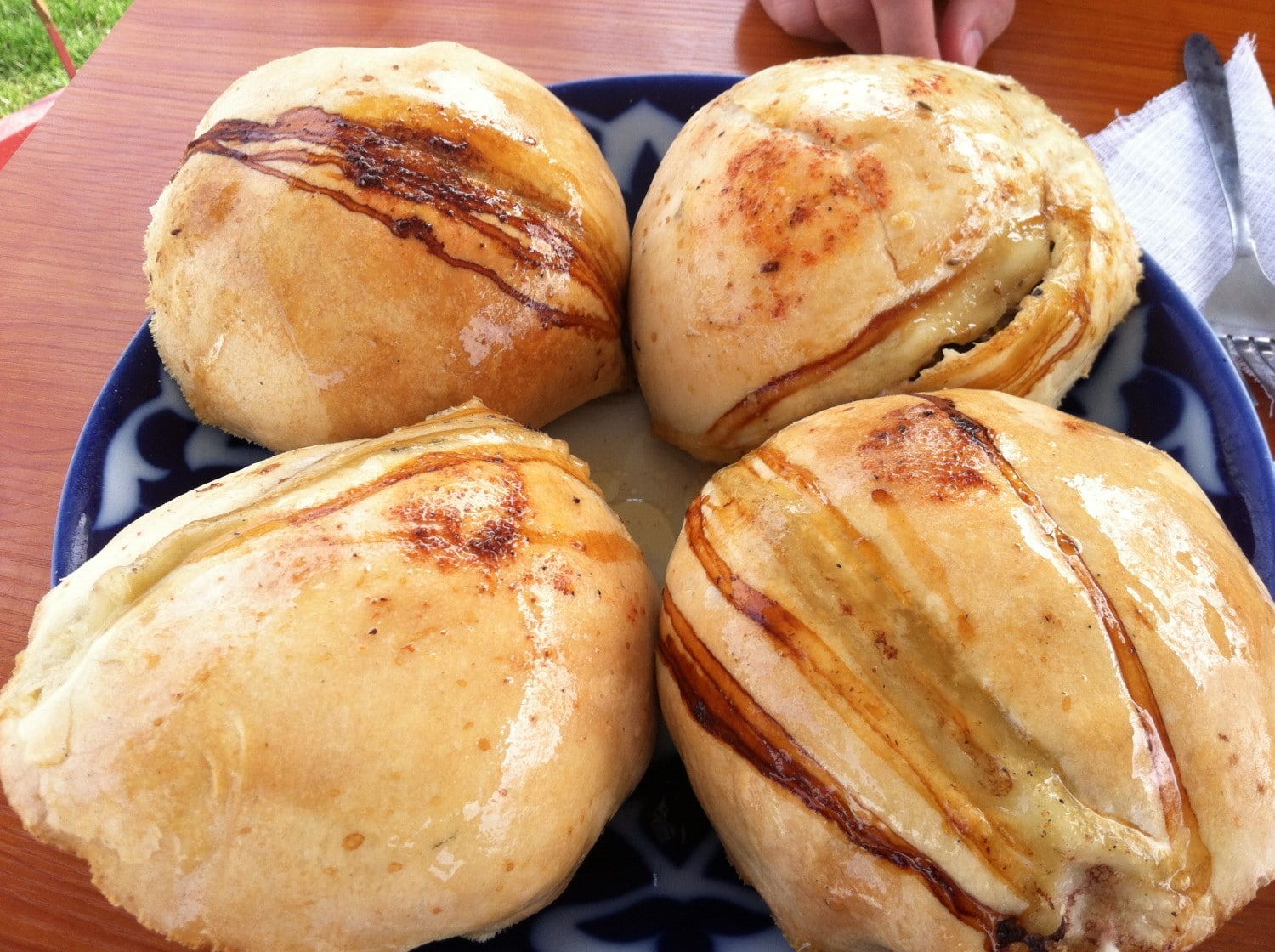 I ordered two mutton samsas, one spicy and one not. Just to warn, the spicy samsa has a kick. Even if you're usually skeptical of said "spicy" foods in Kyrgyzstan (the post-Soviet space in general doesn't have much of a reputation for hot foods), be prepared for some serious punch from Chaikhana Adish-Ata's large red peppers, nestled between slivers of mutton, mutton fat, and onions. In fact, even if you don't eat the peppers, you will still feel the heat, for those spices have been festering in that meat mixture for 30 to 40 minutes in the tandir. Fortunately, the crunchy bread will soothe your senses. And what delicious golden bread it is, too. The bread at Chaikhana Adish-Ata was the best part; the perfect combination of crunch on the outside, softness in the inside, and overall flakiness. It reminded me of some samsa I had right in the outskirts of Bukhara, while on an excursion there arranged by my program through The School of Russian and Asian Studies. The famed samsa there had that same beautiful, baked golden color. Apparently, you can achieve this look by brushing the outer layer with kefir (fermented milk), yoghurt, or egg yolk.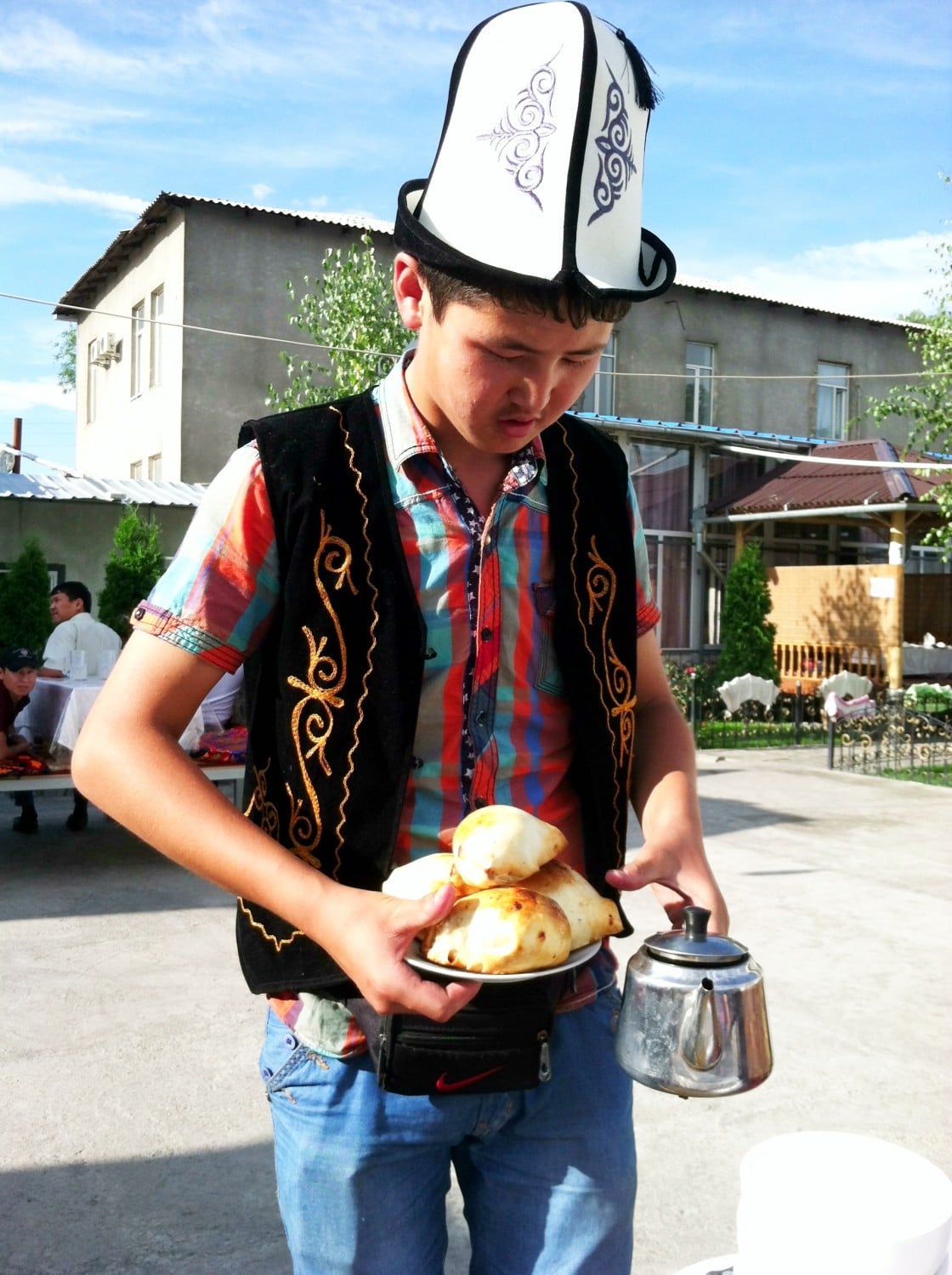 As if it couldn't get better, Chaikhana Adish-Ata also offers ambience, which is good, considering the chaikhana is not located in the center of Bishkek. The word "relaxed" best describes this place, especially in the uncovered topchan in the courtyard where I dined. Lining one side of the courtyard are painted murals of Kyrgyz landscapes, whose refreshing green mountains and blue lakes can have a cooling effect on the spicy samsa. Meanwhile, the topchans are comfortably lined with soft mattresses and pillows, onto which you can climb, sleep, read, sunbathe, and just…relax. To my left, a group of young men read newspapers in silence. To my right, three young diners snickered over mounds of samsa while sitting in different topchan poses (one lay on his side; another sat with his knees up to his chin, while the lady sat daintily sat with her legs to one side.) To my right, two older men were completely passed out in their topchan, lying lifelessly in the sun like dried fish. It seems like Chaikhana Adish-Ata is not only selling samsa, but a style of living: Don't just eat samsa and run (which is normally what I do for a quick lunch or snack). Sit, take off your shoes, relax, eat samsa with a spoon. It's nice.
So, dear readers, the "one cook, one dish" culinary tradition does not disappoint. When in doubt, always go for simplicity and passion. And when in Bishkek, go for Chaikhana Adish-Ata's tandirnaya samsa.