As soon as I knew I'd be spending time in Bishkek, Kyrgyzstan, I asked Google about the national holidays that would happen during my stay. Google gave me a neat little list of holidays that were mostly familiar — except for one: March 21, Nooruz.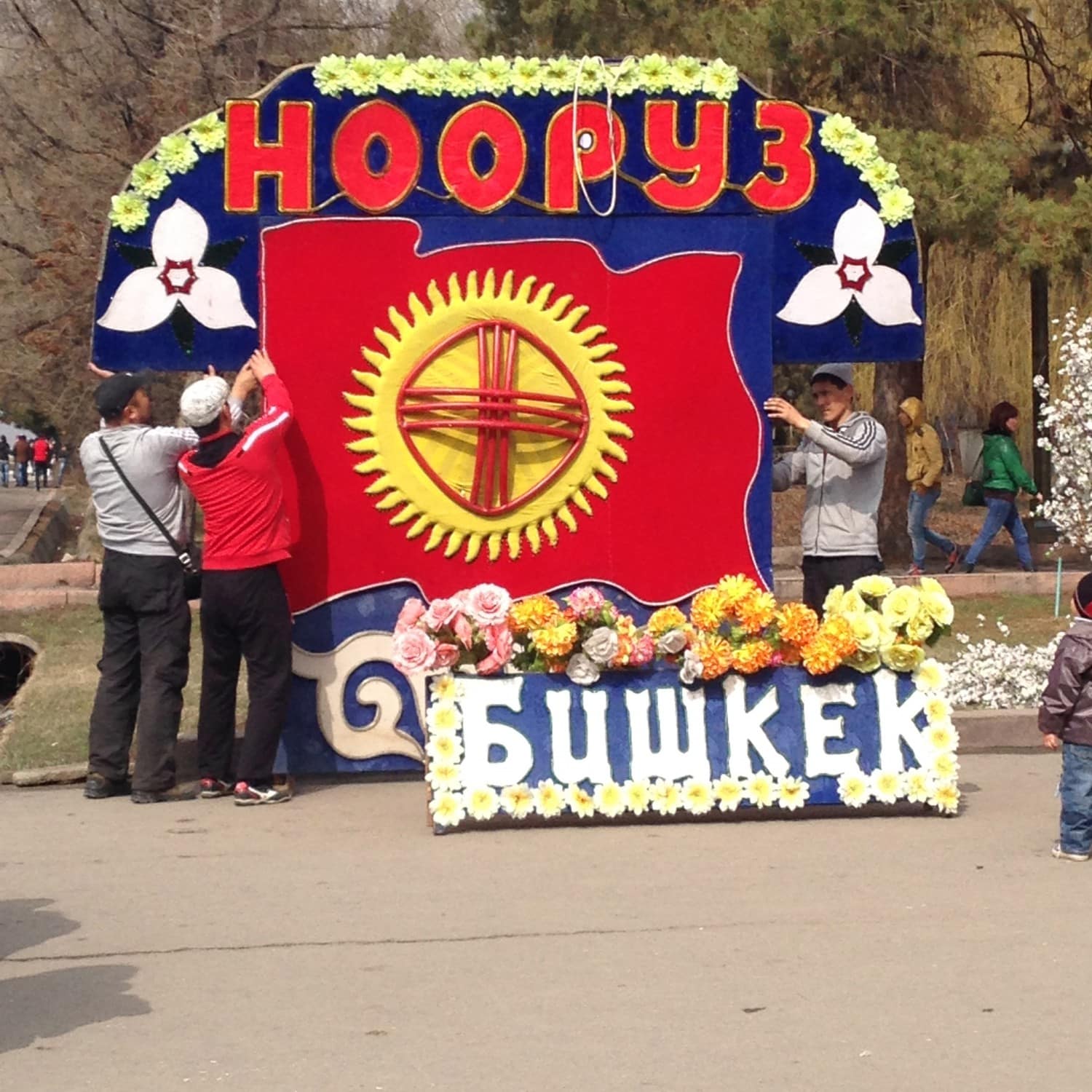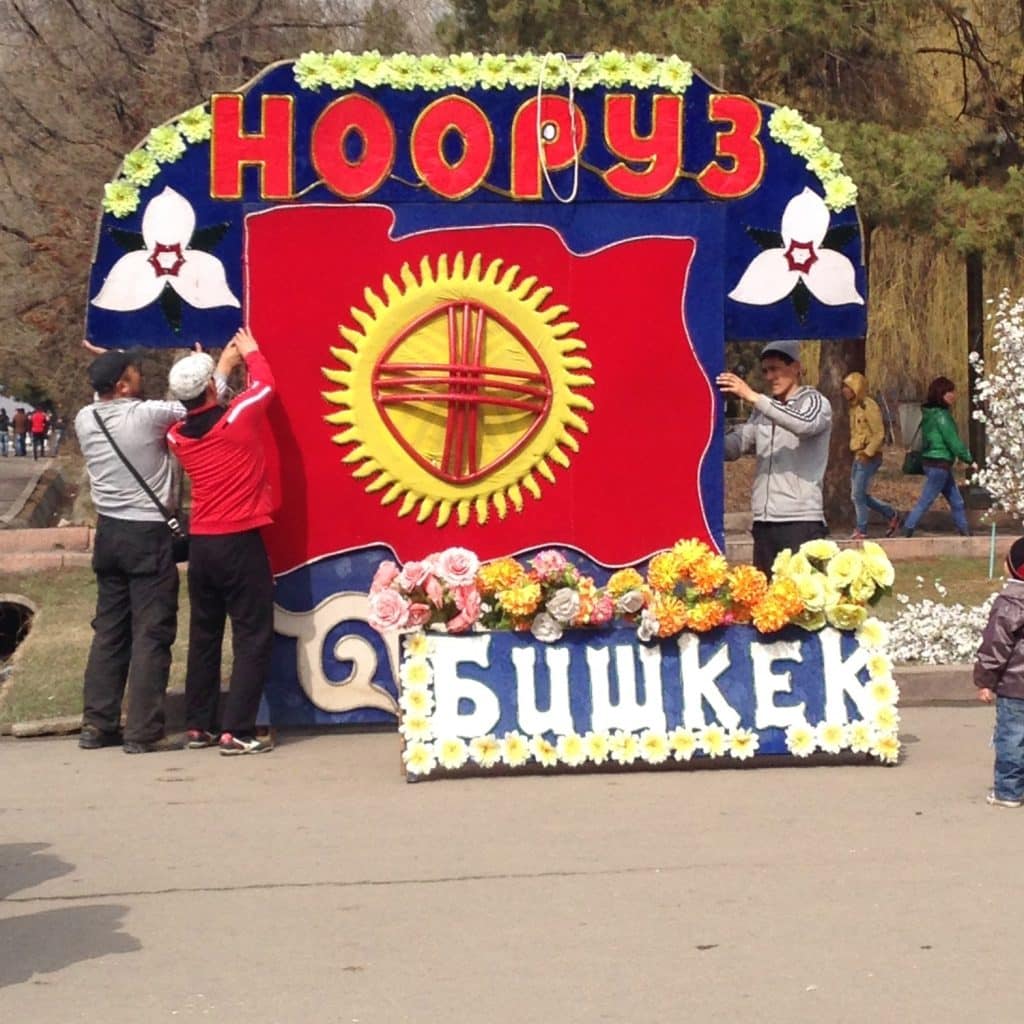 Nooruz (also Nowruz, Novruz, or Naw Rúz), which means "New Year" (or more closely, New Light) in Persian, coincides with the Equinox and is celebrated across a number of countries (Kyrgyzstan, Iran, Afghaniztan, Uzbekistan, and Azerbaijan, to name a few). In 2009, Nooruz was added to the UNESCO's Representative List of the Intangible Cultural Heritage of Humanity and is recognized as a holy day across a number of religions (including Sunni Islam and the Bahá'í Faith). In Bishkek, kids get the day off from school, most people get the day off of work, and a couple of roads are closed to make the main square (Ala-Too) a gigantic festival center.
My Bishkek Nooruz experience actually began on March 20, the Thursday before the holiday weekend. The London School (SRAS's partner school in Bishkek) was all decorated with balloons and banners, wishing everyone "Happy Nooruz!" The cafeteria had a free, celebratory plov (a Central Asian rice dish, usually made with lamb – ohhh so delicious) lunch in the cafeteria. I was stoked because, cool, free food – and then I found out it was better than just free food. Normally, you just whip up your plov on a typical stovetop and you've got a great meal, but for the holiday, the school cooks decided it would be best to prepare the plov in the traditional fashion – over a fire in a казань, a huge, shallow metal bowl, which gave the rice and lamb a hint of a smoky flavor. I could eat that plov for days. It was served with a carrot salad (shredded on top) and little pillow-like fried dough puffs called борсоки. This was just a taste of the food to come.
On March 21, I arrived at Ala-Too Square around noon to find the celebration already in full-swing. Banners hanging in store windows and in government buildings wished the crowd of people a Happy Nooruz. Parents and children held tight to balloons shaped like horses, smiley faces, and cartoon characters. Vendors circulated with tall cotton candy trees and even more balloons. Tables, overturned boxes, and car trunks were set up to sell sumolok, a traditional, Kyrgyz wheat dish prepared only for Nooruz.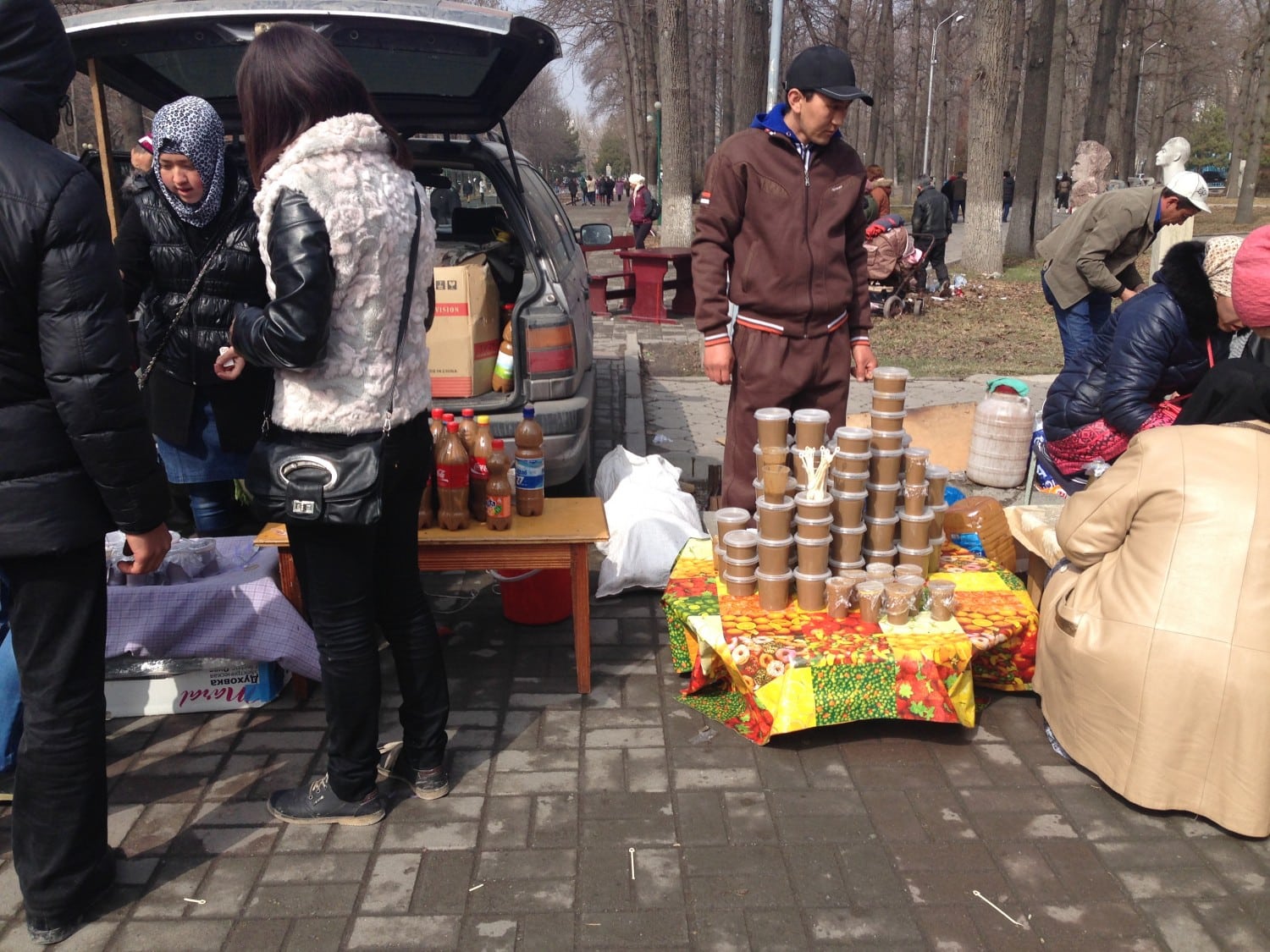 A stage had been set up in the center of the square, in front of the big Kyrgyz flag there. Hundreds of people crowded around to watch children in national dress perform dances to traditional and contemporary music.  So many people were in attendance that in order to see, some people stepped up onto park benches, trashcans, and the still-dry fountains that have not been turned on yet for the summer. Because Nooruz is associated with fire and light, large ribbon structures each reminiscent of a "костер" (Russian for "campfire") flanked either side of the stage – next to four full-sized yurts.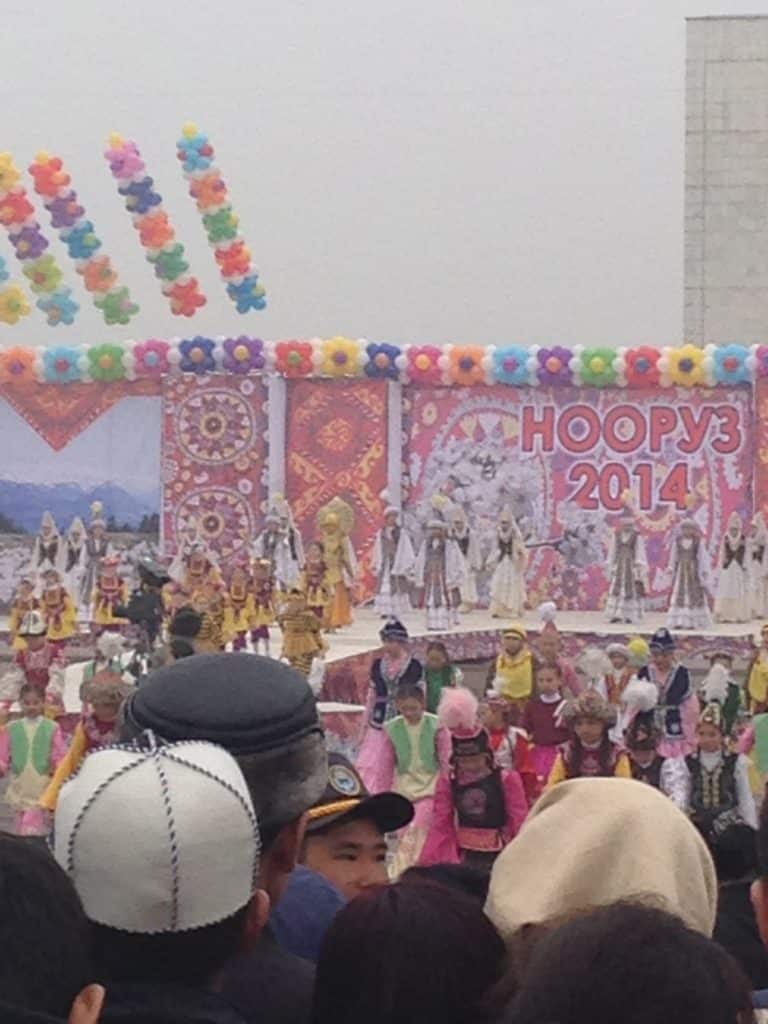 One of my favorite performances was a group of musicians playing Kyl kyyak(a Kyrgyz wooden stringed instrument) I was impressed when the male soloist flipped his instrument, clapped, and continued playing upside down without missing a beat. I was even more impressed when the rest of the (maybe 20 person) ensemble followed suit and they played a verse or two together – upside down.
After the performances concluded, the stage was taken down and the festival continued. More food vendors appeared, and out of nowhere, photographers with big wooden "Nooruz 2014" backdrops popped up. The deal is that you pick your favorite, and take a family portrait or have your children's picture taken in front of a big Kyrgyz flag, a mountain scene with horses, or huge bouquets of flowers (all, of course, with "Nooruz 2014" written across the top).
The crowds turned into groups of people playing games. A lawn by the main government building was covered in three different circles of people passing volleyballs. Younger teens and children played a version of Duck-Duck-Goose next to the Erkindik (Freedom) statue. The plaza in front of the National Museum turned into a battleground for the biggest, most serious Red Rover game I've ever seen. Groups of men timed other men hanging on pull-up bars. Another masculine event on the square was a game my host brother tells me is called "альчики," or "асычки" which means sheep knee-bones. In this game, you throw big pieces of bone at smaller pieces of bones sitting on money on the ground. If you knock a small bone and the money it's sitting on across a chalk line, you get to keep the money – kind of like a big game of marbles, but with bones and cash.
Walking around in nearby parks was equally as exciting. In addition to the games and food, music played on large speakers, people sang karaoke in a number of languages, and mini-outdoor дискотеки (dance parties) appeared in park corners. Families sat on the grass and enjoyed the food, music, and sun. I went home at around 6 and the square was still full and lively.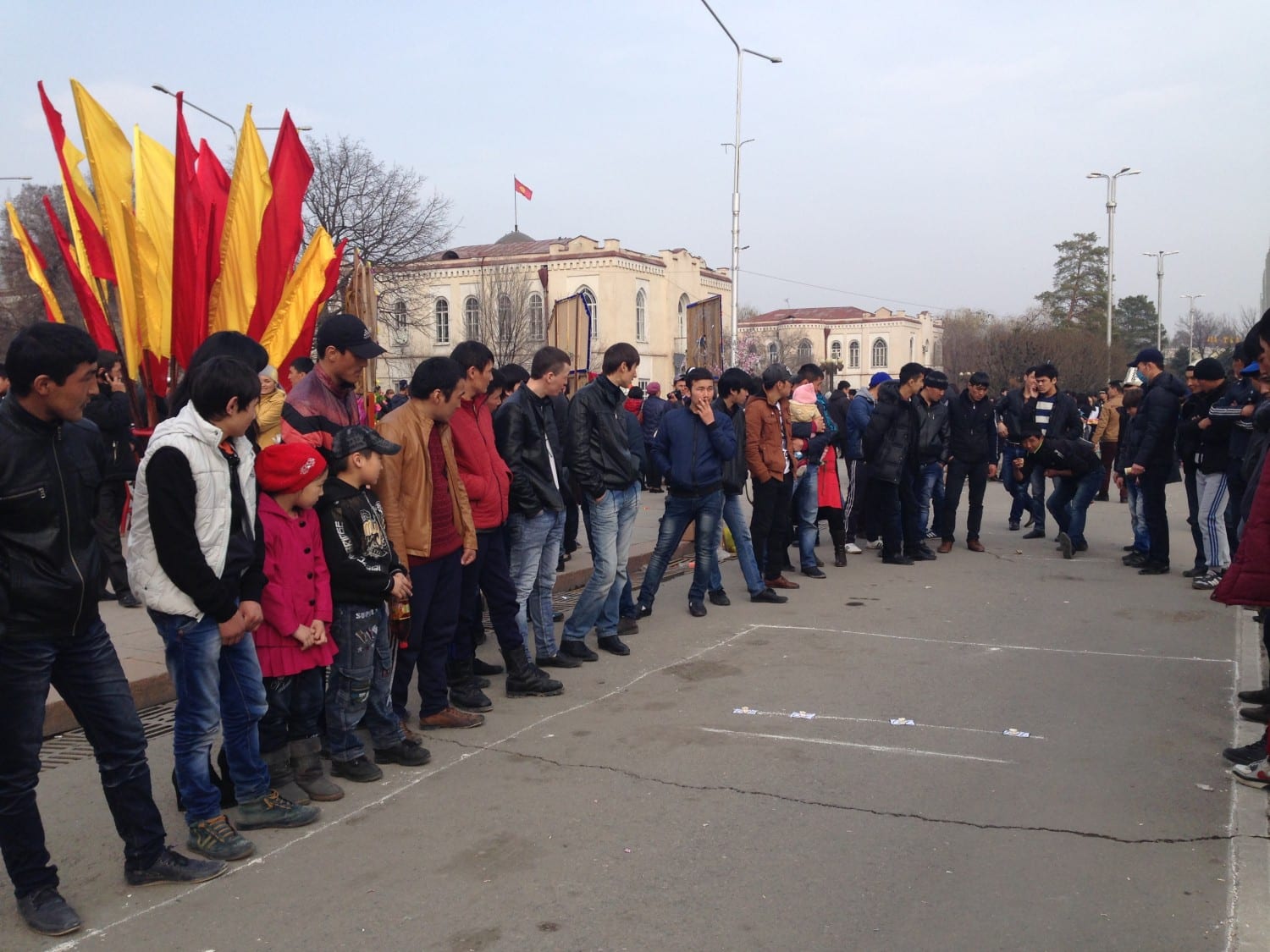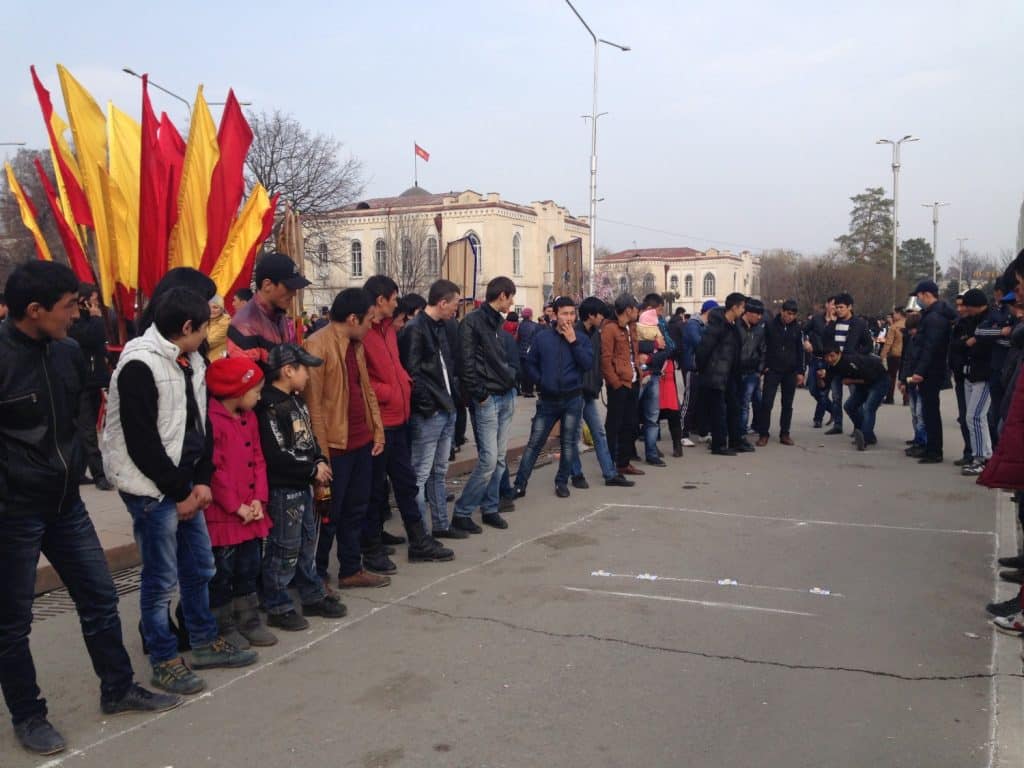 I'm still learning about the significance of Nooruz as a religious and international holiday, but from what I've read and learned so far, it's beautiful – and has a lot of meaning beyond my fun day on the square. While writing this article here in the living room, two different sets of neighbors have come over with different foods to wish my host family a happy holiday and chat with my host mom.  In his international message for the holiday this year, UN Secretary-General Ban Ki-moon called Nooruz a holiday that "celebrates diversity as a strength and as the foundation for a more peaceful and sustainable world, " and called on all people to carry the "message of peace, unity and renewal that stands at the heart of the United Nations and at the heart of the Nowruz celebrations." This Nooruz, I'm grateful to learn about wonderful traditions, to spend time with my host mom, and to experience Spring in Bishkek. Нооруз майрамыңыздар менен (Kyrgyz), С праздником нооруз (Russian), and Happy Nooruz to you!