The Christmas holiday is the second largest holiday celebrated nationally in Poland, behind Easter. Lights strung up in the Old Town, carols humming in the stores, and Christmas trees dotting the streets: these were the festive sights I experienced throughout Warsaw while on study abroad during Christmas time. Personally, as a Catholic, going to Christmas Eve Mass is a must do to celebrate Christmas for me. In this article I will explain the different options for Christmas Eve Mass in Warsaw, some dos and don'ts, and my experience for celebrating Christmas Eve mass while on study abroad in Poland.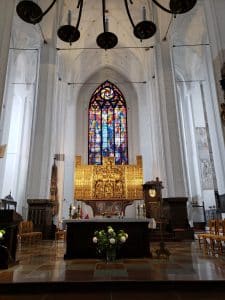 The major religion practiced in Poland is Catholicism, so it is quite easy to find a Catholic Church celebrating mass in Warsaw. Taking a walk down the city's central Nowy Swiat Street, you will see several, and the easiest way to check mass times is to just walk in and look at the bulletin board located at the back of the church. Alternatively, you can hop onto google and check out churches in Warsaw and look for masses held in English.
I found only one conveniently located church with a mass in English:
There were plenty more, however, that offered Christmas or regular weekly masses in Polish:
Carmelite Church (Church of the Assumption of the Virgin Mary and St. Joseph.
Address: Krakowskie Przdmiescie, 52/54
Church of the Holy Spirit in Warsaw
Address: Dluga, 3
Church of Our Lady Queen of the Polish Crown
Address: Dluga, 13/15
Florian's Cathedral
Address: Florianska 3, Praha
Holy Cross Church
Address: Krakowskie Przedmiescie, 3
John's Archcathedral
Address: Swietojanska, 8
A quick note about the above-mentioned churches. Most of those listed are iconic churches located throughout Warsaw, and I highly recommend just going in to check out these historic buildings. Additionally, while St. Paul's was the only English-speaking church I could find, masses held in Polish are still beautiful and can be great language practice. Masses are celebrated in the exact order and style as they are in the U.S. Going to a mass was a great way to fight off feelings of home sickness; it would bring me right back to going to church with my family in the United States.
Dos and Don'ts
Always be respectful in churches. Keep a level of reverent silence while visiting; you do not want to disturb those worshipping or praying.
Dress appropriately. In winter this is not usually an issue but make sure to cover your knees and avoid clothing that is too revealing.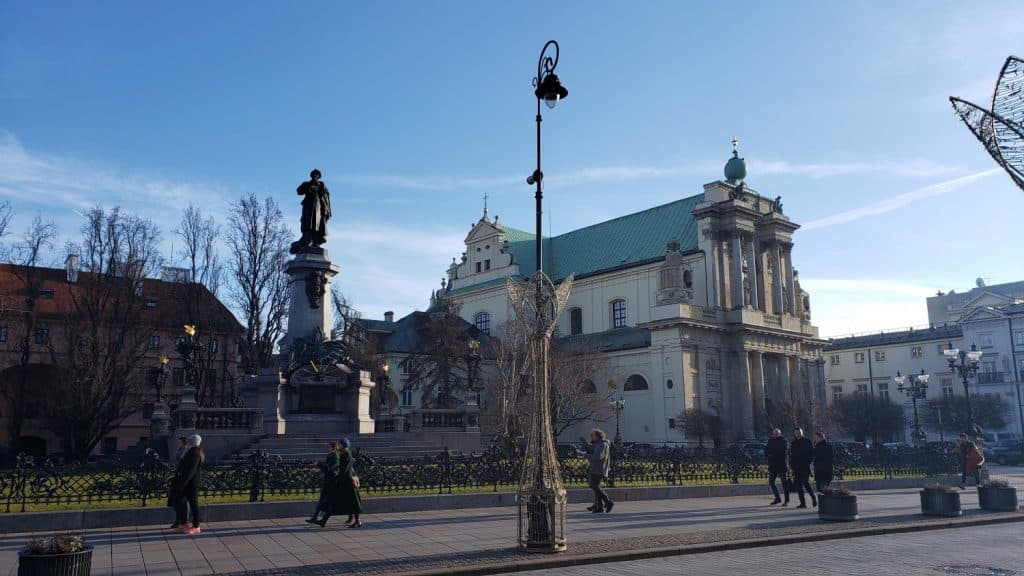 When taking photos, be discreet, especially if a mass is in service.
In a Catholic mass, bring your coat, gloves, and hats, and expect to wear them. In all of the churches and masses I went to, the Poles in attendance often left their coats, gloves, and even hats on during the mass. The churches are very large and heating them is very expensive, so they remain fairly chilly in the winter months.
Go! Even if you are not a practicing Catholic or even if it has been years since you have gone to church, make it a bucket list item while you are abroad to go once. Religion is a major component of Polish culture; go and experience it and I guarantee it will be one of the most impactful cultural experiences had while on study abroad here.
Christmas Eve Mass
St. Paul's English-speaking mass was listed for 10pm on Christmas Eve. My brother flew over from the US and was visiting me over winter break, so I went with him, my girlfriend, and another friend and his family. We took tram number 18 for three stops down Marszalkowska from my apartment in the city center and then walked the remaining five minutes to arrive at the church. We arrived 15 minutes before the mass started and the pews were about half full; by the time mass began, there was standing room only.
The congregation was a mix of multiple ethnicities, all brought together by the celebration of Christmas Eve Mass, forming one community. The pastor spoke perfect English and was most likely from America given his accent. The mass was quite similar to how Christmas Eve Mass is celebrated back home but there were fewer hymns sung in Warsaw. Mass concluded and a festive spirit could be felt in the church. We wished those around us a Merry Christmas and said our goodbyes. We saw several other students from the university in attendance, and it was nice to greet them and wish them happy holidays as well. After, we returned home and had some holiday desserts and opened the presents we had gotten for each other. While it was different from Christmas back home in the United States, great memories were made that will never be forgotten.
Spending time abroad is an excellent opportunity to dive into the many facets of a different culture, religion being one of the biggest. Christmas time away from home is always tough but going to a Catholic mass can make you feel right back at home during the holidays. I suggest while on study abroad to go to Christmas mass or any mass to see how Poles practice their main religion.