Kattama is a traditional Turkic pastry. It is buttery, flaky, layered and fried or baked to perfection! The dough is rolled thin, slathered in butter and other filling, and then layered and folded, creating beautiful flaky layers that are both crisp and soft.
It can be found throughout Mongol and Turkic cultures in various forms.
How Kattama Got Its Name

(Почему так называется?)
Kattama means "folded," and derives its name from the Turkish verb katlamak "to fold," as they are made with considerable folding involved.
They are known by similar names throughout much of Turkey (katmer), the Caucuses (qatlama in Azerbaijani, for instance), Central Asia (kattama is the Kyrgyz name; in Uzbek, they are qatlama) and Mongolia (where the name shifts to gambir).
In Russia, interestingly, they are often referred to as "Greek snails" or "греческая улитка." The food is known in Greece. However, it almost certainly originated in Turkic speaking cultures and, most likely, in Kyrgyzstan, where they are considered a national dish.
How and When Kattama is Eaten
(Как правильно есть каттамау?)
In Kyrgyzstan, kattama is traditionally eaten for breakfast, along with a nice cup of tea. Kattama is usually served with sour cream as a dipping sauce, but in some households, you will also find fresh jam and honey to spread across the top. It is also sometimes paired with soup.
Turkish versions are known for being particularly sweet, often filled with creams and nuts. These desert dishes are also considered national foods in Turkey, with many regions preparing unique versions that have been documented and registered by the government as cultural icons.
Preparing Traditional Kattama
(Как правильно готовить каттамау?)
In Kyrgyzstan, because Kattama is most often a breakfast bread, people will prep the dough the night before and leave it in the refrigerator overnight; the cold temperature of the refrigerator slows the activity of the yeast, which gives the bread a slower rise. Slower rises produce stronger doughs, which is useful when you plan to roll it out quite thin. It will also make your kattama tight, dense, and flaky.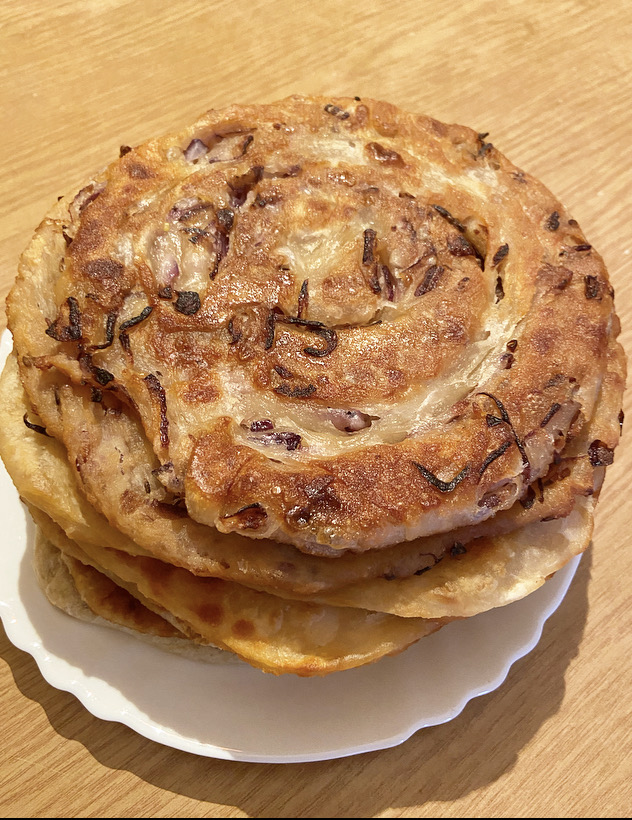 Kattama dough can also be frozen and kept in the freezer for up to three months, this is a great time saving option, as you can make a large batch of kattama and take them out of the freezer as needed.
Fillings can vary widely. The Kyrgyz use almost exclusively butter and onion. However, you can also find savory versions with cheese, egg, and/or meat, as well as sweet versions with poppy seeds, dried fruits, and/or cream.
Traditionally, kyrgyz kattama was baked in a Dutch oven using a dried dung fire. Mountainous Kyrgyzstan has few trees, but its people have always raised large numbers of animals. Thus, dried dung came to be fuel of choice. Nowadays, using dung to make kattama is associated with rural Kyrgyz. However, it's not necessarily looked down upon as it is the tradition.
Yak butter was also used in traditional recipes, as yak butter was easily accessible with the yak being a historically common animal in China, Mongolia, and Central Asia. The yak fell out of favor particularly during the soviet era, although it is now gaining new footholds on Kyrgyz ranches seeking better sustainability. Yak butter is higher in fat and, before churning, first fermented. This means that it is more flavorful and richer than cow butter. However, nowadays yak butter is not as common and cow butter is readily available and less expensive.
Some variations today are baked (such as those popular in Turkey and Russia). However, in most of Central Asia, kattama is best served hot and fresh, right out of the frying pan. If kattama sits out for too long, it becomes awfully hard and difficult to chew, so it's best to make just enough kattama for a single meal.
Let's Cook Kattama!
(Давай приготовим!)
Каттама
Kattama
Ингредиенты:

450 грамм муки
3 столовые ложки сливочного масла
2 маленькие красные луковицы (мелко нарезанные)
1 чайная ложка молотого тмина или порошка чили (в зависимости от того, какую специю вы предпочитаете)
½ стакана теплой воды
1 чайная ложка соли
Масло для жарки (растительное или подсолнечное)

 

Дополнительные начинки

 

Направления на русском языке

1. Просейте муку в большую миску, медленно добавьте воду и соль и замесите тесто, сформировав 6 одинаковых маленьких шариков.

2. Заверните шарики в пищевую пленку и оставьте на 30 минут.

3. Раскатать тесто на крупные тонкие кусочки, толщиной около 2 мм.

4. Обильно намажьте каждый кусок ½ столовой ложки масла.

5. Обильно и равномерно распределите поверх масла нарезанный лук.

6. Сверните тесто в трубочку и защипните каждый конец, чтобы запечатать.

7. Сверните каждую трубку в спираль так, чтобы внешний конец был подвернут под нее. (он должен напоминать булочку с корицей или раковину улитки)

8. Заверните каждую катушку в пищевую пленку и оставьте в холодильнике не менее чем на два часа, а лучше на ночь. (Вы также можете заморозить дополнительные катушки на срок до трех месяцев)

9. Достаньте рулон из холодильника и раскатайте его в тонкие круглые лепешки. (Ширина должна соответствовать размеру вашей кастрюли).

10. Повторите шаг номер девять для всех катушек.

11. Налейте масло в сковороду и разогрейте на среднем огне (следите за температурой, чтобы масло не подгорело).

12. Добавьте на сковороду одну каттаму и жарьте на среднем огне, пока обе стороны не станут золотисто-коричневыми (примерно по 2-3 минуты с каждой стороны).

13. Подавайте Каттаму горячей со сметаной, джемом или медом (по желанию).

Ingredients:

450 grams flour
3 tablespoons butter
2 small red onions (finely sliced)
1 teaspoon ground cumin or chili powder (whichever spice you prefer)
½ cup warm water
1 teaspoon salt
Oil for cooking (vegetable or sunflower)

 

Optional Toppings

 

Directions in English

1.     Sift flour in a large bowl, slowly add water and salt and knead the dough into 6 equally small balls.

2.     Wrap balls in plastic wrap and let rest for 30 minutes.

3.     Roll the dough into large, thin pieces, about 2 mm thick.

4.     Generously spread ½ tablespoon butter over each piece.

5.     Spread sliced onions generously and evenly over the butter.

6.     Roll dough into a tube and pinch each end to seal.

7.     Wrap each tube into a coil, with the outside end tucked underneath. (It should resemble a cinnamon roll or snail shell)

8.     Wrap each coil in plastic wrap and keep in the refrigerator for at least two hours, preferably overnight. (You can also freeze extra coils for up to three months)

9.     Take coil out of refrigerator and roll it flat, into thin rounds. (The width should be the size of your cooking pan).

10.  Repeat step number nine for all coils.

11.  Add oil to a pan and heat on medium (watch your temperature, you do not want to burn the oil).

12.  Add one Kattama to the pan and fry over medium heat until both sides are golden brown (approximately 2-3 minutes for each side)

13.  Serve Kattama hot with a side of sour cream, jam, or honey (optional)
Our Favorite Kattama Videos
This video is hosted by a Kyrgyz cultural tourism site, giving tourists insights on Kyrgyz traditions. This video gives a clear and uncomplicated way to make Kattama.
This video shows how to make Kattama the traditional way with yak butter and heated with cow dung.