The custom of sending greeting cards can be traced back to the ancient Chinese, who exchanged messages of good will to celebrate the New Year, and to the early Egyptians, who conveyed their greetings on papyrus scrolls.
It is believed that first Christmas card was created by an English artist named "Dobson" in 1794. The card which he presented to his friend depicted a snowy winter forest and a happy family next to a Christmas tree.
The first commercial Christmas card was published also in England in 1840. It featured the artwork of John Callcott Horsley, a painter of the Royal Academy of Arts, and was created for his friend Henry Cole as a gift for Cole's relatives. Later, Henry Cole became one of the founding members of the Victoria and Albert Museum and served as Museum's first director.
John Callcott Horsley designed a card (12×7 cm) with a true Christmas triptych. The central picture showed three generations of the family of Sir Henry, sitting at the Christmas table, and on the sides placed pictures on the theme of mercy and compassion, with food and clothing being given to the poor. At the bottom was the signature: "A Merry Christmas and a Happy New Year to you!" The cards were received with great enthusiasm and loved by the recipients, who proudly showed them around. The only exception to the popularity were puritans who reviled at the publication for the glasses of red wine placed by the artist in the hands of the family including small children. Regardless, the interest didn't wane and for the next three years the cards were put on display for all to see. Cole seeing that these cards were a continuous success saw an opportunity to gain wealth. In 1843, with the help of Joseph Cundall, a publisher of children's books and illustrated albums, Cole printed approximately one thousand copies and sold them a shilling a piece – it was a big money at that time! (In 2004, an unnamed buyer purchased one of 30 preserved copies of the first card at Bloomsberry Auction for £5,170). The cards were printed on cardstock and colored by hand. The family was convinced that Christmas cards were a temporary fad and not a lasting business, but they were wrong. From the 1860s, Christmas cards were mass produced.
Historians believe that Christmas cards existed even earlier. Their prototypes – engravings and lithographs depicting Christmas themes were popular during the Middle Ages.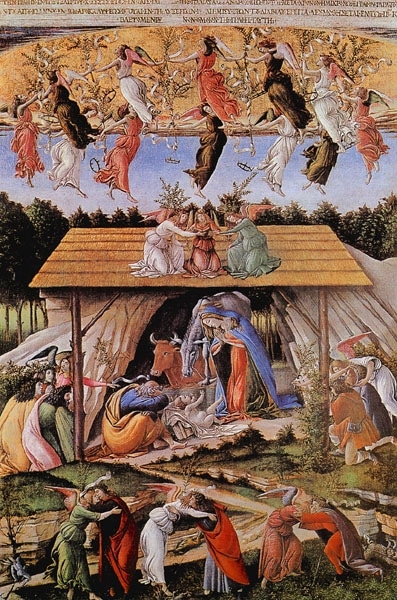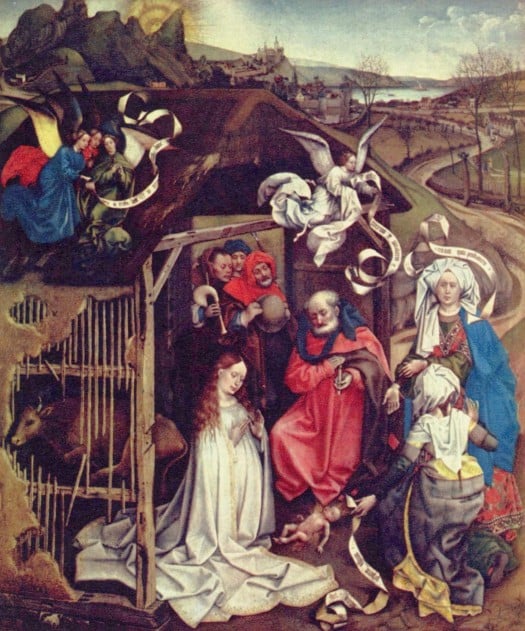 Later, in Europe people began sending each other letters with Christmas and New Year's greetings, often hand-made. In December, children often prepared these letters for their parents. Visiting cards that appeared in Paris in the middle of 18th century became another ancestor of Christmas cards. As always, Paris was a trend-setter – visiting cards soon gained popularity throughout Europe. At Christmas time, visiting cards were personally delivered to all important addressees.
The first Christmas cards came to Russia from England in 1890s. Enterprising merchants purchased cards that featured no words and then had them inscribed by hand in Russian. This increased the cost of cards that were sold for a ruble or more each, making them affordable only for wealthy people. Later cards were printed abroad, mostly in Germany, ordered by major bookshops especially for Russia.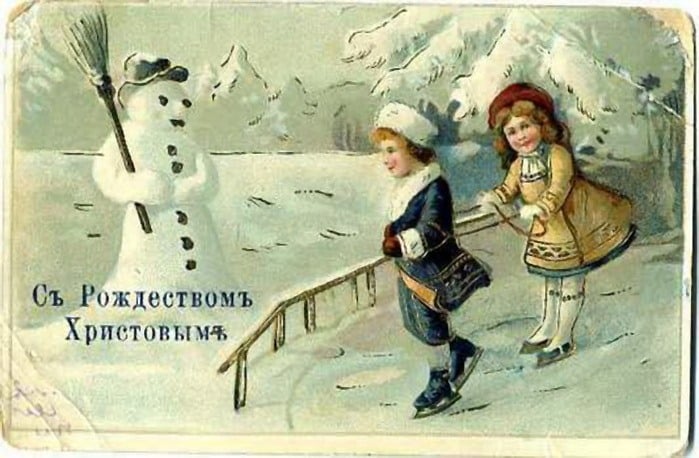 A custom of morning personal visits and delivering visiting cards for New Year's and Christmas became a pleasant and joyful, albeit troublesome responsibility of aristocrats in Russia from the time of Catherine the Great. Thus, British custom of congratulating each other with greeting cards quickly gained popularity in Imperial Russia.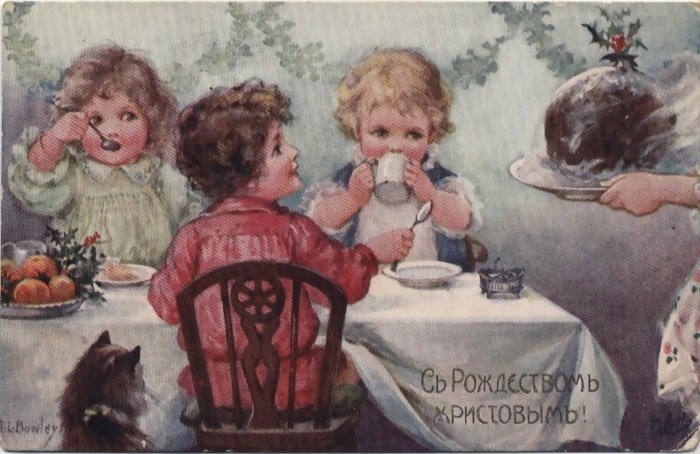 In 1894, the Russian Ministry of Internal Affairs, which included Postal Department, allowed cards to be sent in the mail.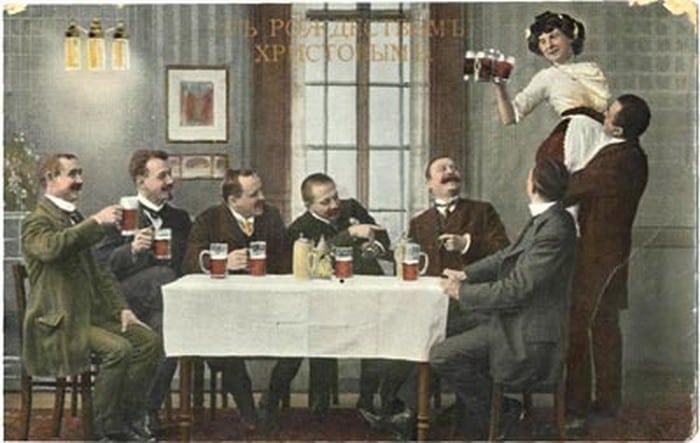 First open letters (without illustrations) were put into practice in Russia in 1872, to be published solely by Postal Department. Decree issued in 1894 allowed sending through postal service forms with illustrations printed by private publishers.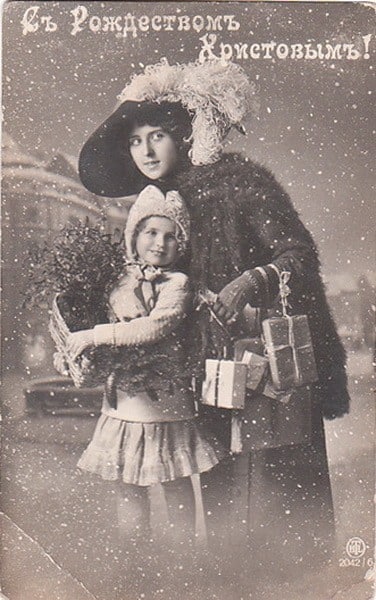 In 1894, Russia started printing first illustrated cards. The postcards contained a collage of few scenic views of a city with a decorative vignette. An inscription "Greetings from (name of the city)" or "Regards from (name of the city)" accompanied the image on the card.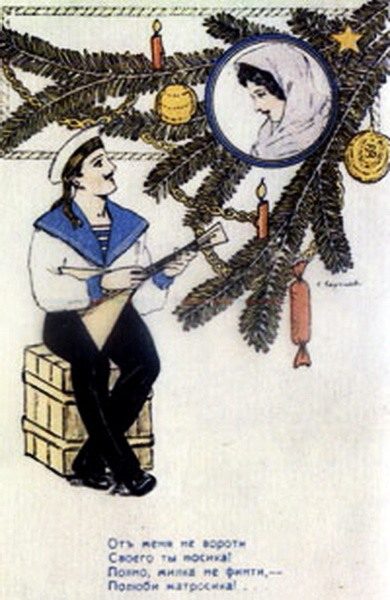 On the cusp of the 19th and 20th centuries, the publication of greeting cards grew significantly in quantity and multitude of themes. Images of different nationalities of Russian regions, greetings for different occasions, advertisements and humorous images, as well as other topics, became available along with scenic cards.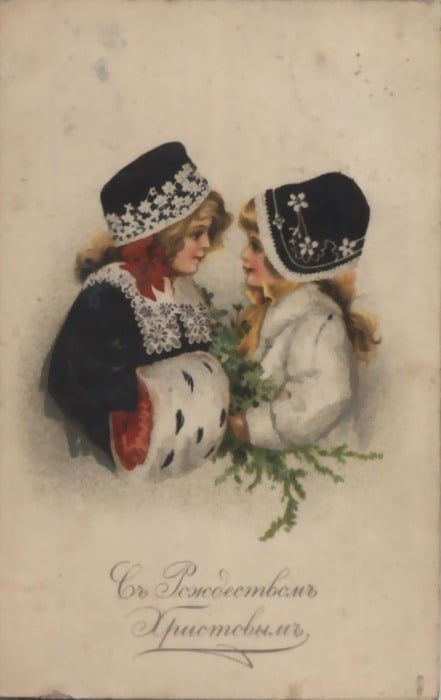 The first Russian Christmas cards printed for charity were done by the St. Petersburg Committee of the Red Cross Sisters (the Society of Saint Eugenia) to raise additional funds for the hospital, dispensary, and nursing school.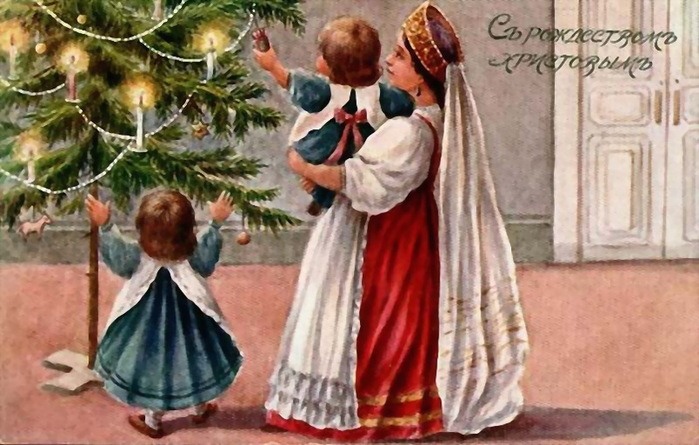 For Christmas of 1898, the Society of Saint Eugenia published a series of ten cards based on watercolor paintings of famous Saint-Petersburg artists. Although the cards did not carry a Christmas inscription, (it became popular later), by the intention of the creators and in the design of their images, they were the first Russian Christmas cards.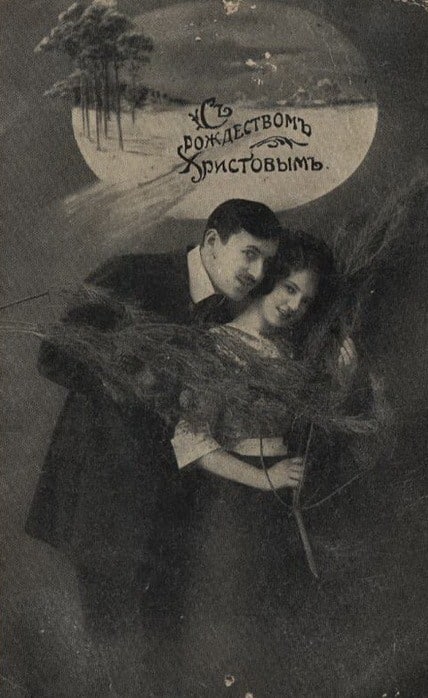 Christmas was celebrated on December 25 (old style), close to New Year. Therefore, Christmas cards were often used for New Year greetings, too.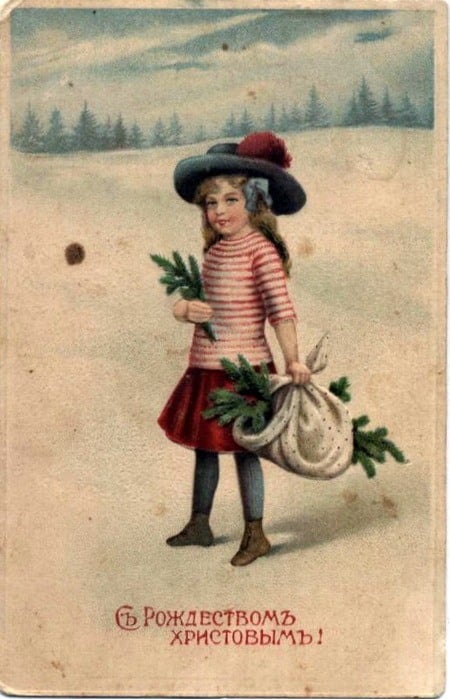 Publishers' catalogs of that time carry descriptions of many types of cards, such as "elegantly embossed", "sparkling enamel", "glossy", "enamel with gold", "aristocratic on the best canvas cardstock in art nouveau stile", "bromic silver", "velvet", and "authentic gravure printing gilt-edged".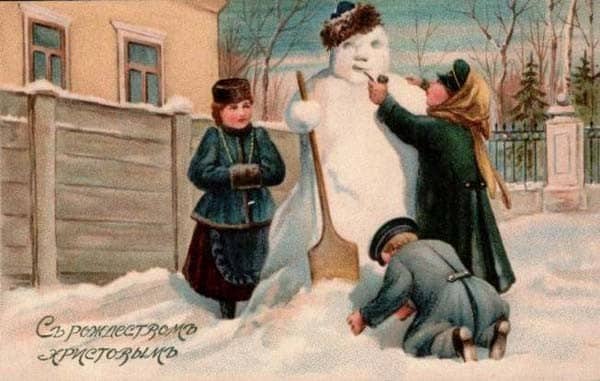 Especially delightful are the words of one of the publishers, "Finally, we are able to congratulate our relatives and friends not with pictures of German (foreign) life, but of Russian life, where everything is close and familiar to us, and full of memories of Russian history."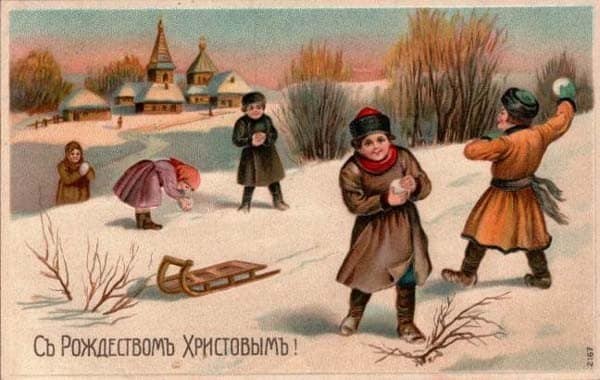 For Russia, cards effectively became a new form of art. They were used to decorate the home and were displayed in special albums. Of the 23 countries in the Universal Postal Union, only Russia did not conform to the international standard card size (9×14 cm). Russian authorities deemed it unacceptable to curb the imagination of domestic producers.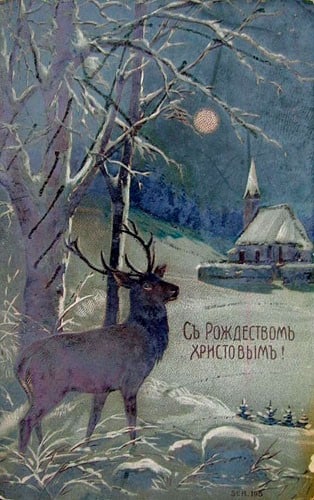 Themes of Christmas cards are very diverse, it would be impossible to list them all. All the major events of the time were reflected on Christmas cards, including the First World War.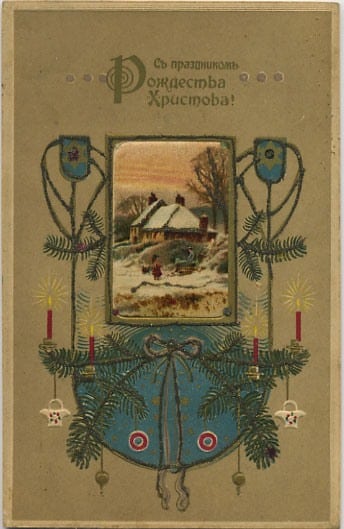 After the October Revolution in 1917, greetings cards were discontinued as an attribute of bourgeois society. Christmas and New Year's Greetings were eliminated from printed materials and official language. However, the custom to send holiday greetings remained. People used any picture cards with a winter image.
Below you will find a multitude of examples of pre-revolutionary Russian Christmas cards. Happy Holidays!