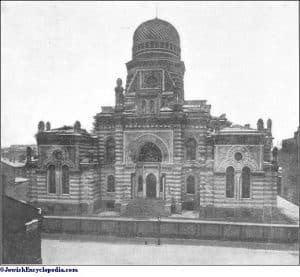 The history of Jewish people in Saint Petersburg dates back hundreds of years. In the late 18th century, Russia's annexation of eastern Poland saw millions of Jews move deeper into Russia under Catherine the Great. Many came to Saint Petersburg. When Catherine later created the Pale of Settlement in 1791, many Jews were forced to move there, but under Tsar Alexander II, upper class Jews were allowed to live in the city legally, while lower class Jews managed to move back illegally. By the end of Alexander's reign, the Jewish population of the city was just over 17,000.
During the Soviet Union, Jewish life was stifled and suppressed, but a number of Jews in the city were part of an underground movement to revive Jewish nationalism. After the fall of the Soviet Union, the city still remains home to a significant amount of Jewish people, and Jewish organizations.
Today, it is estimated that there are 80,000-150,000 Jews in Saint Petersburg and around 600,000 Jews in all of Russia.
Centers for Jewish People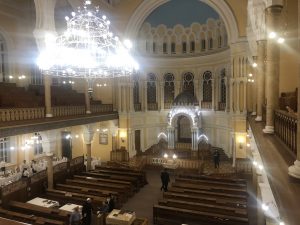 The Grand Choral Synagogue
Lermontovskiy Prospekt, 2
The Grand Choral Synagogue is the second largest synagogue in Eastern Europe, and the only synagogue in Saint Petersburg. Tsar Alexander II gave permission for its construction in the late 19th century, and remains a place of active worship today. They have Friday evening and Saturday morning services every week, as well as holiday services and celebrations. There is also a Kosher restaurant inside.
Jewish Community Center
3 Rubinshteina Street
Located in the center of the city, the Jewish Community Center not only has lectures and exhibitions, but is also a place where you can get information about Jewish life and meet other Jewish people. They host events weekly, including a fun movie screening night. There is also a large library where you can find books in Hebrew and Yiddish!
Chabad "Maor"
Novolitovskaya Ulitsa 7a
Like most Chabads around the world, you won't have to spend more than a minute here before feeling like you are part of the family. The Rabbi and his family are incredibly welcoming, and will take you in right away. He is originally from Israel, and his wife is from New York, and they both speak English and Russian. The community is also a mix of cultural Jews trying to get more connected to their roots and orthodox Jews. They also have a school and a cultural center, and host Shabbats and holidays.
Yesod
Bol'shaya Raznochinnaya Ulitsa, 25
The Yesod Jewish Community Center offers everything for Jewish life in the city, including Shabbat Services and holiday celebrations. They offer programs for singles, families, as well as young and old people. They offer non-traditional ways to celebrate the holidays, including a comedy concert with apples and honey for Rosh Hashana.
Restaurants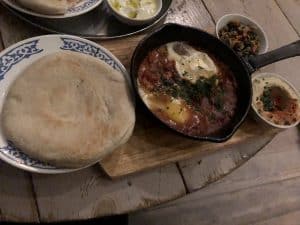 Le'chaim Kosher Restaurant
2 Lermontovsky pr.
Le'chaim is located on the ground floor of the Grand Choral Synagogue, and it is the only restaurant in the city that serves fully kosher food. It is actually a non-profit restaurant, with all of its profits going to the synagogue itself. It is open Sunday-Thursday 10:00-22:00, and Friday till the start of Shabbat. They serve traditional dishes of Ashkenazi Jewish cuisine.
Saviv Israeli Bistro
Bolshaya Konyshennaya Street 9
Serving traditional Israeli food with fresh and tasty ingredients, this place is a must go if you are craving some food from the homeland. The interior is clean and simple, with polite servers who can recommend their favorite dishes. Dishes range from 300-500 rubles, and are best served by getting several and sharing between friends.
Bekitzer
Rubinshteyna Street 40/11
Tucked into the busy street of Rubinshteyna, Bekitzer is a gem. With decent prices (average bill around 1000 rubles, or currently about $15, for appetizer, meal, and drink), Bekitzer offers a range of Israeli street food, including falafel, shakshouka, and pita and lox. The best thing on their menu is their tapas plate which includes babaghanoush, labneh, Turkish salad, hummus, and a pita, all for 280 rubles! Their cocktails are also very unusual, using ingredients like tahini syrup, anise liquor, and shawarma-spiced vodka.
Sights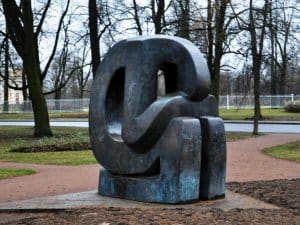 Preobrazhenskoe Jewish Cemetery
66 Aleksandrovskoy Fermy Prospekt
The Preobrazhenskoe Jewish Cemetery was founded in 1875 by request of the local Jewish community. At first, they were only given a section of the cemetery, but over time, the cemetery gained its independence. By the end of the 19th century, a prayer house was built, and then later, another building was built for funerary services. During the Soviet Union, the cemetery was shut down and became a target by vandals. Now, it is opened again, but burial is only allowed for relatives of people already buried at the cemetery while restoration is underway.
Holocaust Memorial – Formula of Sorrow
Tsarskoye Selo
During World War II, the Siege of Leningrad lasted from 1941-1944, and killed over one million civilians within the sieged city. In 1941, the Nazis entered Tsarskoye Selo (20 km outside the Leningrad and murdered all Jewish men, women, and children. They were buried in mass graves, with some still being alive. To commemorate this tragic event, a monument unveiled in 1991. The sculpture represents a bronze stylized figure of a grieving man, but in accordance with Jewish tradition where is it not customary to portray a person in sculpture, the moment is supposed to represent the first letter of the Hebrew alphabet "Aleph," which is a symbol of beginnings.
The Jewish collection of the Ethnographic Museum
Inzhenernaya St, 4/1
The Ethnographic Museum in Saint Petersburg has a permanent collection about the Jewish History and Culture of Russia, from the Biblical times to the Pale of Settlement. The museum has over 2,500 items, including ritual utensils, household furniture, wooden Torah boxes decorated with silver crowns, and more.