The international department at VGUES has, throughout the semester, taken us on various excursions around Vladivostok. This week, we ventured back into time to explore some of the old Russian traditions. At a rather nondescript apartment building near the city center, a kind babushka beckoned for our group to come inside. We were then ushered into a room filled with all manner of Russian trinkets and devices and seated at a long table which extended around the edge of the room.
When honored guests first arrive, a round cake of bread is presented to them with a small bowl of salt resting on top. This bread is presented to each of the guests by a girl in traditional Russian garb called a сарафа́н (Sarafan). Guests tear off a piece of the bread and then dip it into the dish of salt before eating it. The tradition represents welcome and friendship and is associated with the various historical significances of bread and salt in Russia.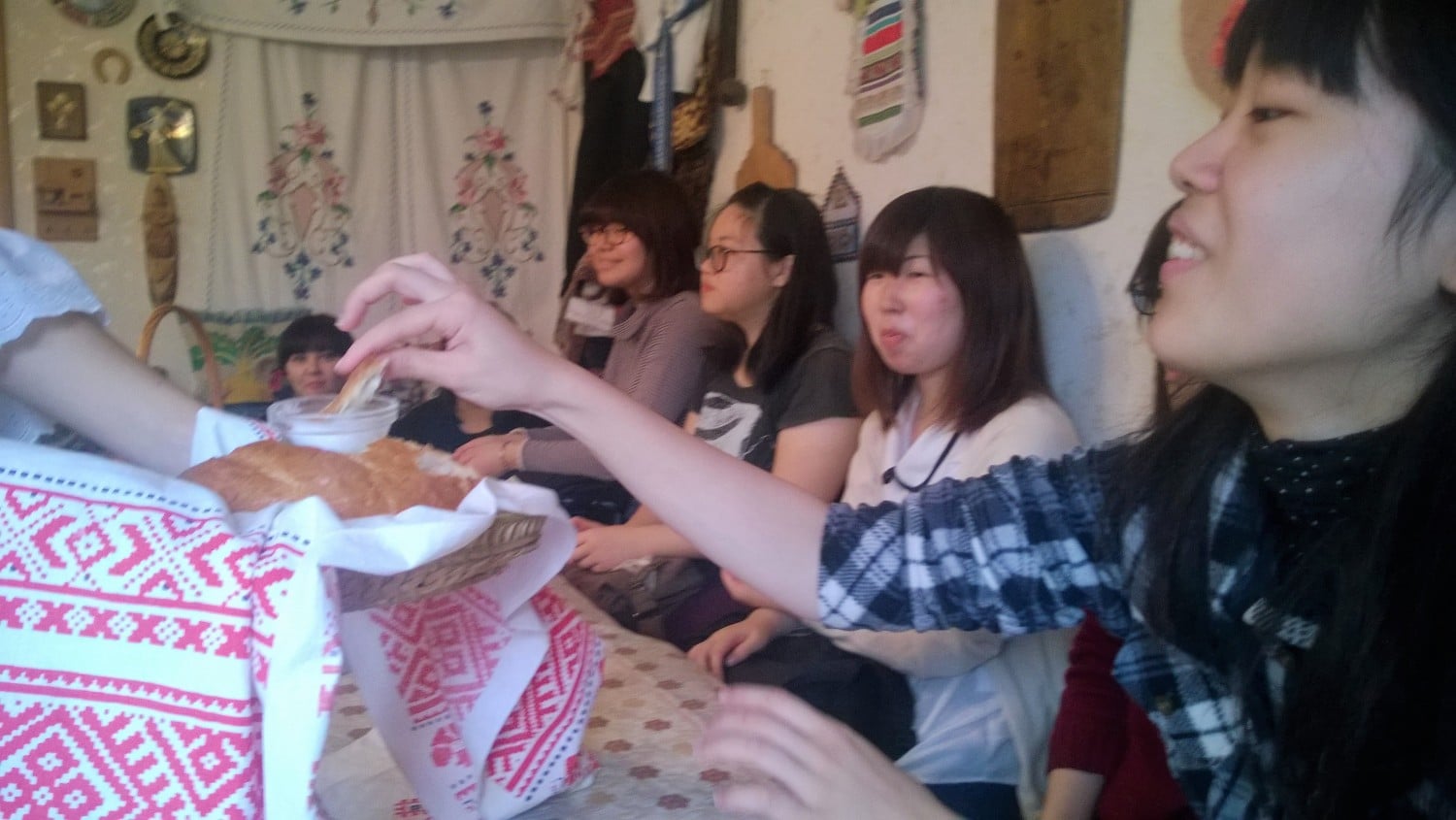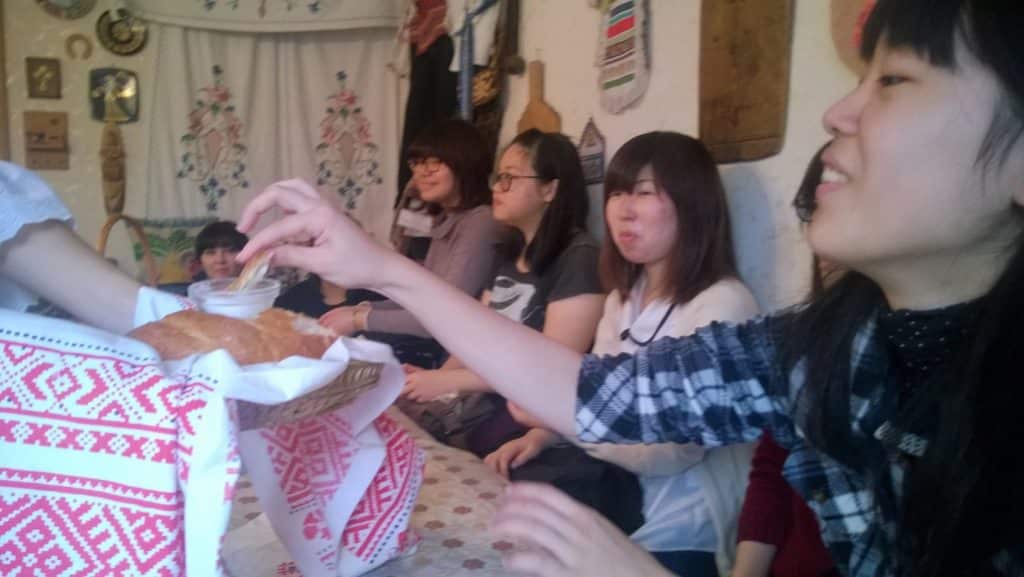 Mint tea was served in traditional Russian гранёный стакан (table-glasses) set inside подстака́нник (podstakannik). The table-glasses are simply thick, faceted glasses while the podstakannik is a metal device that the table-glass sits in and has a handle. The purpose is to allow people to drink steaming hot tea out of a table glass without needing to hold it directly. It is logical and functional, but the podstakannik are actually quite ornate with their design.
We played a couple of Russian folk games, which I assume were designed to facilitate marriages. In the first, a man and a woman sit on chairs back to back. The onlooking group counts to three, at which time the two participants turn their heads either to the right or to the left. If the guy and girl turn their heads in the same direction, the man must kiss the woman on the cheek. I won this game–first try.
The second game is like the first; it's another kissing game. To start, the woman stands on top of a chair. Then, the man has to leap up and kiss her while she attempts to avoid the peck without falling. Likewise, I won at this game, but it didn't seem that the Russian maiden made much attempt at evasion.
Finally, we were shown some of the traditions surrounding a Russian wedding, with the traditional dress for men and women and the exchanging of symbolic gifts and some of the ceremony. Overall, this experience was well worth the trip. Our Russian presenters made the whole presentation engaging with plenty of interaction. Another bonus was that they spoke slowly and repeated often–a gratefully received addition for the Russian novitiate.