The fourth Sunday of every September in Vladivostok is set aside for a local holiday called "День Тигра" ("Tiger Day"). The event celebrates the Amur (also called Siberian) Tigers, whose natural habitat is the Primorsky Krai Region of the Russian Far East. Vladivostok's coat of arms prominently features the Amur Tiger, and there are quite a few statues located throughout the city recognizing the animal, making it something like the city's mascot.
Tiger Day is quite a big deal in the city. People came out by the thousands dressed in all manner of tiger gear, from simple orange tee-shirts to full tiger costumes. The event kicked off with a one kilometer parade down Okeyanskiy Prospekt, one of the main thoroughfares of the city center. Groups representing schools, organizations and businesses raised banners and took up tiger-related chants as they walked toward the city square.
The square was set up with a large stage and plenty of food and craft vendors. Throughout the day, local dance troupes showed off their talent in a competition. As the afternoon began to wind down, a popular Russian band took the stage to play a set for the expectant crowds.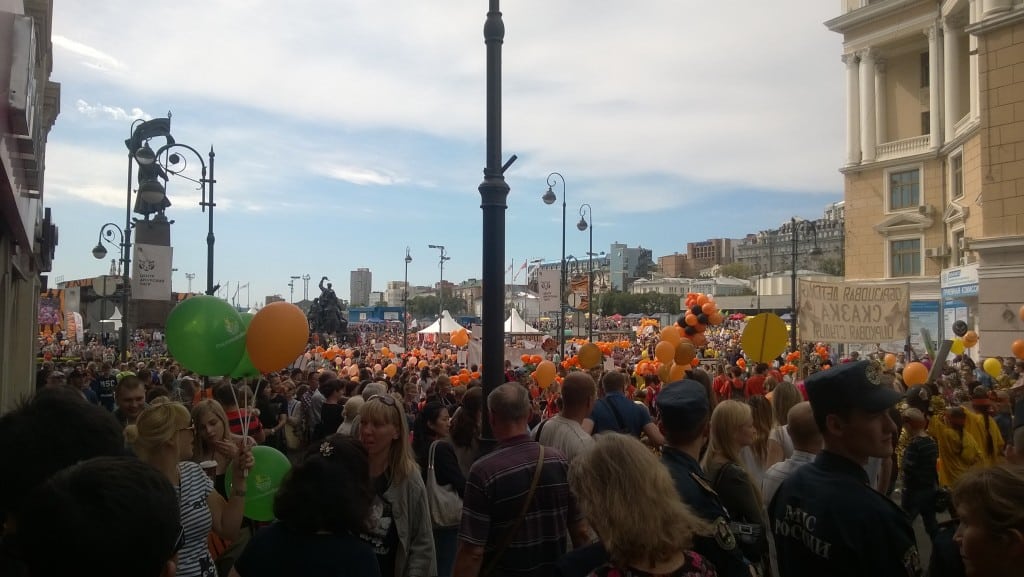 The World Wildlife Federation and the International Fund for Animal Welfare were both prominent sponsors at the event, raising awareness (and money) for the endangered tigers. There are estimated to be only 450 tigers throughout Primorye. Some of the cats may range as far as North Korea or northern Manchuria, however.
Tiger Day has a fairly short history in Vladivostok, only starting in the late 1990s, but judging from the enthusiastic crowds I saw throughout the day, it certainly isn't going to disappear any time soon.