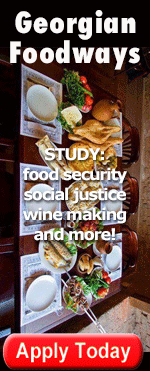 As an American having lived in Moscow for the past 12 years, I'm fairly well acquainted with Central Asian culture. Much of Central Asia was incorporated into the Russian Empire and was part of the USSR. Today, the majority of immigrants to Moscow come from Central Asia. Thus, finding examples of Central Asian cuisine, dress, language, and religion in Moscow is not at all difficult.
I've long been acquainted with the delicious culinary staples of Lagman, Manti, and Plov. These are readily available in many Moscow restaurants and even in my now-mostly Russian household in Moscow. However, whenever you travel to a different culture and actually put yourself in the rich and complex context of another people's daily life, you are bound to make new discoveries.
I learned a considerable lot about the societies, economies, histories, and interrelations of some of Central Asia's major cultures on a recent trip to Central Asia to check up on SRAS's Bishkek-based programs. As one of the simplest and most memorable things that one discovers while abroad (and my personal favorite thing to explore while abroad), I thought I'd share some of my favorite culinary discoveries I made recently in Central Asia.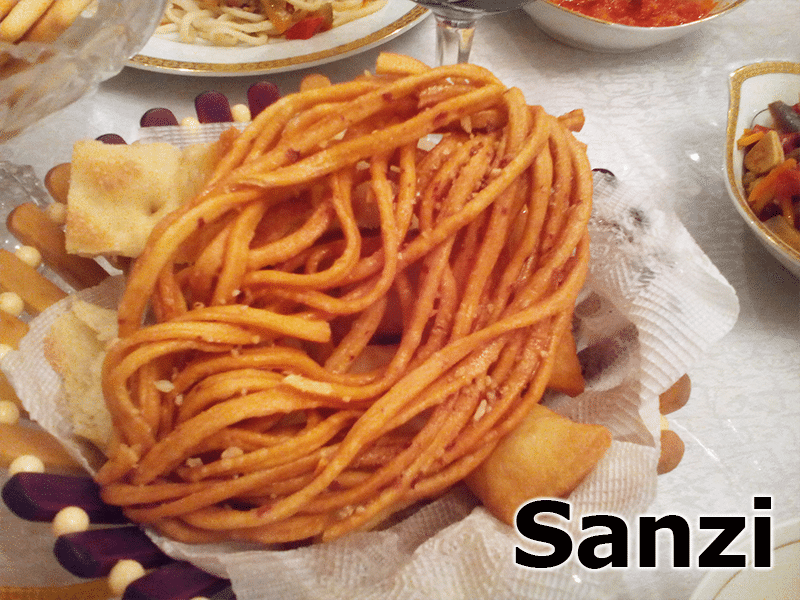 Sanzi is actually a Chinese desert but apparently not uncommonly served with Kyrgyz meals. It consists of noodles, which are twisted into a shape, deep fried, and then coated lightly with honey and sometimes crushed nuts. It is quite similar to the delicious Tatar invention of chak-chak (which the Uzbeks also often claim), but lighter and crisper, with the noodles held together more by their twisted shapes then by generous amounts of honey.
In Kyrgyzstan, Sanzi is known as a Uighur food. The Uighurs are a Turkic people which have a significant minority in Eastern Kyrgyzstan, which borders Western China, where the most of the world's Uighur population resides.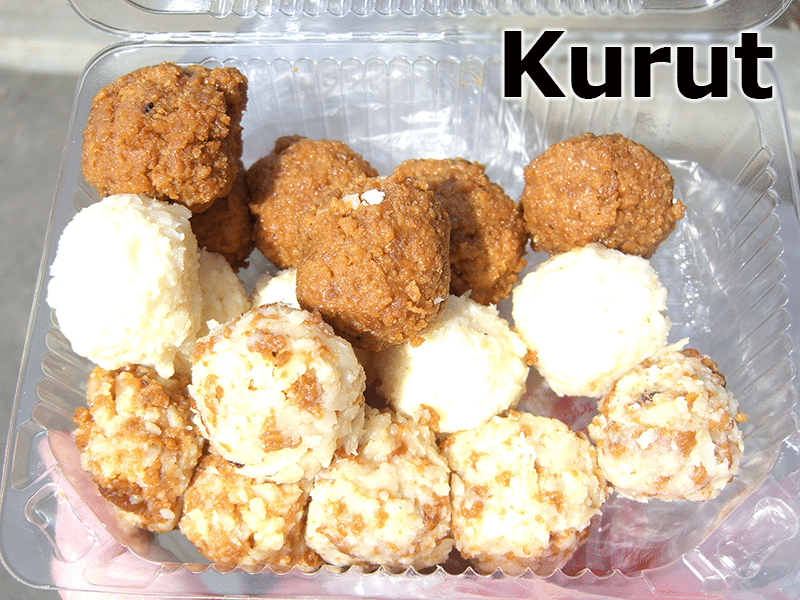 I had read of Kurut from the adventures of our students in Kyrgyzstan. This snack food is essentially a dried yogurt ball. It is commonly found in markets across Central Asia, Mongolia, and some parts of eastern Russia. The nomadic peoples of these lands would travel with these balls and, depending on what culture they came from, make drinks from them, add them to soup broth, and/or eat them plain. The most common form of kurut, designed for travel, and which I tried in Kyrgyzstan, is preserved with generous amounts of salt and has a chalky taste and texture. One brief taste is more than enough for most Westerners.
I also found, however, in a market in Kazakhstan, a sweet version of kurut. That's what's pictured here. Rather than add salt, sugar is added and sometimes other flavorings as well. I got a mix pack that featured plain and coco-flavored balls. The result is a sweet, tangy desert with a distinct sour undertaste from the concentrated yogurt. This version of the dish doesn't store long, of course, but it is tasty – almost to the point of being addicting. I'm definitely going to miss these.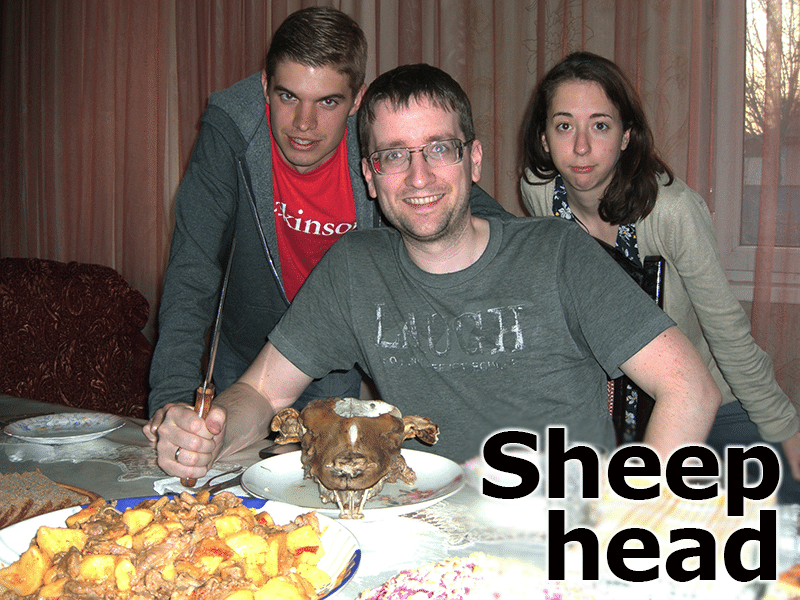 In Kazakh culture, it is considered a sign of respect to serve guests a boiled sheep's head. Every part of head that is not bone – including the tongue, palate, brain, eyes, skin, etc. are eaten. We stayed for two nights with a Kazakh family and one of our students mentioned that he heard of the tradition and was interested in it. The family readily took the opportunity to treat us.
As the oldest member of our group, it fell to me to taste the head first and pronounce it delicious before carving and distributing it. Each part of the head has symbolic meaning – the eyes are supposed to give vision, the palate gives a better singing voice, and the brain helps with learning. The brain, they explained, is traditionally considered a children's food and associated by most Kazakhs with childhood.
To tell the truth, it tastes about how it looks: strange and not altogether pleasant. We all tried some, and the student who had expressed the interest that earned us the honor of the meal diligently tried every part of the dish. However, most of the head was actually consumed by the natives and we partook generously of the fresh bread and a lamb-and-potato dish that the hostess made to compliment the head (and presumably fill the stomachs of those who couldn't stomach the head).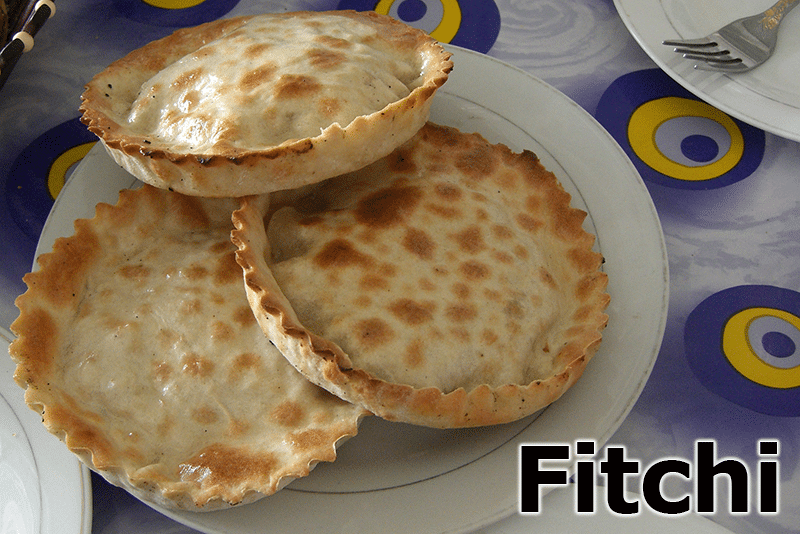 Fitchi are a local comfort food in Turkmenistan associated with students and the poor. They reminded me of chebureki, the other, much-better-known, meat-and-pastry dish from Central Asia. In fact, the minced-meat-and-onion filling, applied in portions meant to compliment the surrounding pastry, or even just provide it with a little flavor, rather than dominate it seems to be identical.
The major differences between the two dishes are shape (fitchi are pie-shaped; chebureki are half-moons), dough (fitchi have a very thin shell while the cheburek tends to be thicker), and preparation (fitchi are always baked; chebureki are almost always fried or deep-fried).
The fitchi (pronounced fee-tchee) pictured here were bought at an apparently popular roadside café in rural Turkmenistan for a single manat (about a quarter) each. They were simply delicious.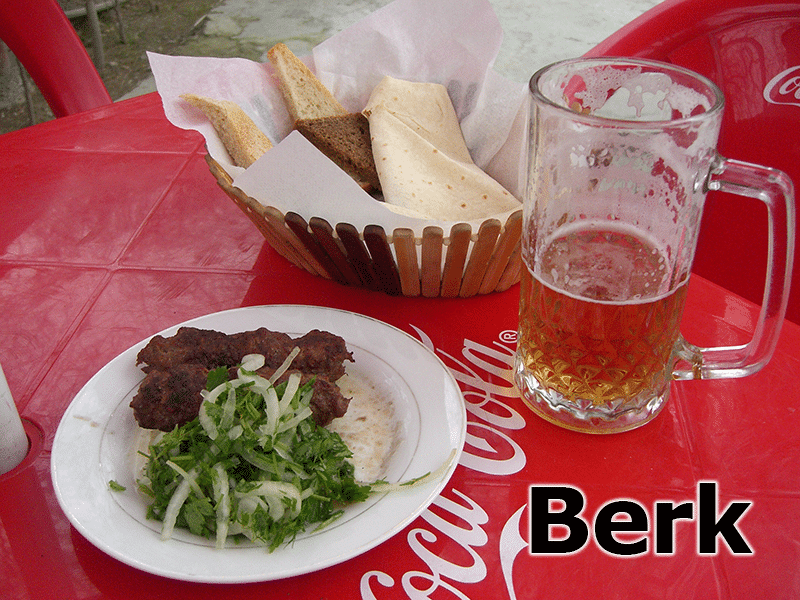 While it was not jump-up-and-down, look-into-exporting-to-make-a-million-dollars good, this beer was a major surprise for me. Beers that I have tried in Russia and Ukraine have been middling to bad. I was not able to find local beer in Kyrgyzstan (although apparently they do exist), the locals cite the fact that the population is majority-Muslim as the reason for them being not readily available. Turkmenistan is also majority Muslim. However, it is also home to Berk Beer, a slightly dark lager beer with a well-balanced flavor and slightly thick, very sudsy texture. I'd even rate it higher than most beers I've tried in the Baltics, the much more Germanic countries of the former USSR.
Something else about Turkmenistan – I had consistantly good meat there. Central Asian diets are typically very meat heavy but the Turkmen had hands-down the best meat on offer that I tried. Also, every meal was served with free, fresh bread. The main course here, by the way, is Lyulya Kebab. This is ground meat that is molded around a skewer and cooked over a hardwood or coal fire. It is served traditionally with chopped cilantro and onions soaked in a little vinigervinegar which you eat with the meat as a sort of sauce.
Travel and learning have long seemed as essential to me as eating. I simply love when I can combine them all and I look forward to my next unknown meal abroad.