This past weekend, I checked out a restaurant that offers 12 variations of one of Kyrgyzstan's most beloved dishes. What might that be, you ask? Here's a hint: It's noodly, meaty, and eaten with the hands.
If you guessed beshbarmak, you guessed correct. Beshbarmak, which literally means "five fingers" because of the way it's eaten, is Kyrgyzstan's pride and joy. The restaurant I tried was Ozgocho Beshbarmak Café, which literally means "Special Beshbamak Cafe" in Kyrgyz.
Read though the article, and if you are not able to travel to Bishkek any time soon, you can always make your own traditional beshbarmak with this recipe, also on our site.
Traditional Beshbarmak in Modern Kyrgyz Culture
Beshbarmak is the first dish mentioned by Kyrgyz taxi drivers, moms, and pretty much any stranger who starts a conversation with you about Kyrgyz cuisine. It's the staple dish when serving guests. It's also the center of many special, specific traditions native to the Kyrgyz dining experience. Like beshbarmak? You may just have the key to the Kyrgyz heart.
For the unitiaited, beshbarmak is the combination of thinly sliced meats (called naaryn) and freshly made noodles (called lapsha). Actually, for a long time this dish was simply called naaryn. In the 1930s "beshbarmak" first entered the culinary lexicon — originally as a joke, because of its literal meaning — and then it stuck around.
Beshbarmak could be described as Kyrgyz pasta, from which you can make a variety of combinations. You can prepare beshbarmak from horse; yak; sheep; sausage; brain; rings of horse intestine; by-products such as stomach, liver, kidney, and heart; wild game such as ram, roe, deer, and goat; baby animals such as lamb, foal, kid, and calf; meat jerky; foul such as chicken, duck, and turkey; vegetables such as carrots, cabbage, red and green peppers, onions, and radishes; and fruits such as dried apricots and quince.
Regional Variations and Rivalries for Traditional Beshbarmak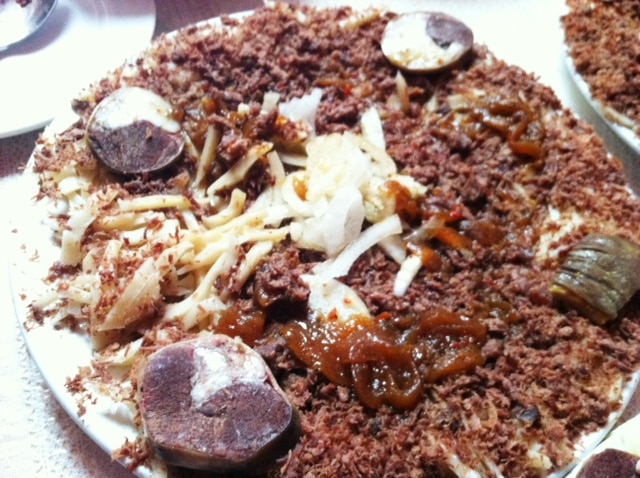 You can also prepare beshbarmak according to a regional style. The most well-known versions are beshbarmak ala Issyk Kul (long noodles with less meat), ala Talas (julienned noodles with meat), and ala Naryn (long noodles with lots of meat). At Ozguchen you can also find traditional beshbarmak ala Chatkal and ala Askyy, two small villages in Kyrgyzstan's Jalal-Abad oblast, but unfortunately I didn't ask what those regional varieties mean. Beshbamark can also be found in other parts of Central Asia, although under different names. For example, in Kazakhstan, Uzbekistan, and the Chinese autonomous region of Xinjiang, it is still called naaryn, while in Afghanistan, it is called aash.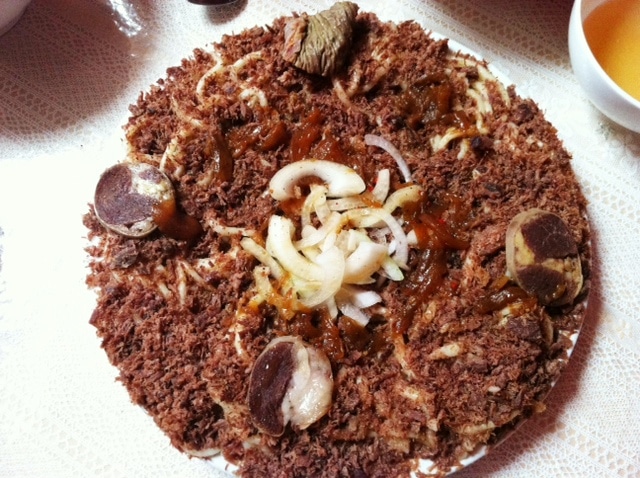 Exactly what constitutes traditional beshbarmak can stimulate interesting discussions about regional attitudes. I've had some pretty unexpected conversations with Central Asians about this dish. Once, while on an SRAS excursion through Uzbekistan, a tour guide told me and my colleague, "Yeah, the way they prepare beshbamark there is not the real way to prepare beshbarmak. You think you can throw in a bunch of a meat and call it 'beshbarmak?' They don't know how to cook. You know why? Because they're lazy. They don't know what it means to work hard. They're nomads." Ah, well… ok.
But, of course, Kyrgyz can talk smack amongst themselves, too. I once told a Kyrgyz teacher I was going to Issyk Kul for the weekend, and she cooed, "Oh, we have the best beshbarmak there!" but then she was interrupted by another Kyrgyz teacher from a different region who shook her head and said, "No! Naaryn has the best beshbarmak!" I just let them battle it out. After all, we do the same thing in the States. I mean, who makes the best barbeque, really?
Enjoying Traditional Beshbarmak in Bishkek
Ozgocho Beshbarmak Café, (in Kyrgyz, "Special Beshbarmak Café") is located on Nekrasova Street, on which you'll also find a bunch of carwashes, an Uzbek samsi café, and three or four other beshbarmak cafés. I was invited to Ozgochu by a native Bishkeker who works as a tour guide for Japanese tourists; so, someone who's used to feeding people who appreciate a fine noodle joint. Turns out Ozgochu is a great place to educate yourself on the different varieties of traditional beshbarmak without having to leave the capital. This café also offers a fun opportunity to dine in an outdoor yurt that is beautifully decorated inside with a brass chandelier and multicolored felt ornaments. (Note: None of other beshbarmak places on this street have a yurt.)
Come with a large group so that you can order the different types of beshbarmak and pass them around. It'll be fun ordering as many varieties as possible, throwing it in the middle of the table, eating family-style, and comparing notes on which ones are your favorites. Since we were a group of four (me, my Kyrgyz friend, and two Japanese lovers of meat and noodles), we ordered four varieties of beshbarmak: ala Talas, ala Naaryn, ala Issyk Kul, and gulchotai, which means the noodles are cut into squares. My favorite was the Naaryn, because it had the most meat.
All the beshbamark dishes we tried were good, though. Probably the best I've had in Kyrgyzstan, in fact. It was all in the preparation of the horsemeat. It was aromatic, light, delicate, and almost fluffy, as if the café had grated it with a lemon zester. It just melted in my mouth. The horsemeat was also complemented with fresh, fresh noodles (an absolute requirement for beshbamark). Every bite was satisfying and heart-warming, and surprisingly not that heavy.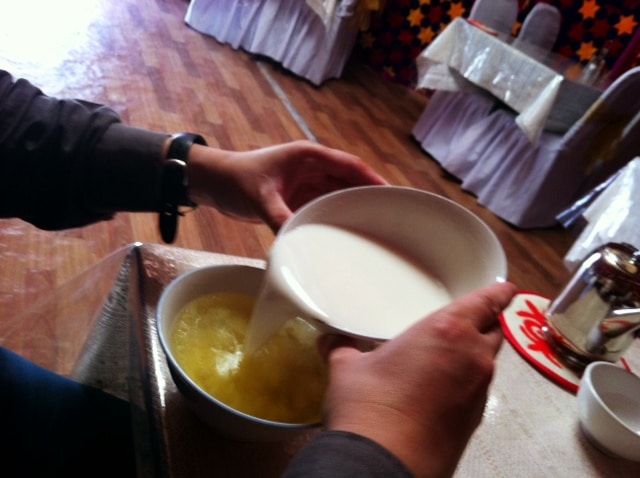 Resist the urge to wash your meal down with a soda. Apparently, fatty meats like horsemeat do not digest well with cold drinks. Best to stick to hot green tea or the traditional Kyrgyz drink, ak serke, which is meat bouillion mixed with either kymyss (fermented mare's milk), airan (yoghurt and milk), or suzmo (thicker and less diluted airan). Drink with a spoon, or straight from the bowl, whatever is more comfortable. I ended up spooning my horsemeat-and-airan broth, just to avoid giving myself a heat facial from the steam.
Finally, after the meal, be prepared to sit in a silent stupor for a couple of minutes as you rub your stomachs with satisfaction. Also be prepared for leftovers, because even if you get the smaller portion (the café offers two portion sizes), you will probably not finish it all. Oh, also, you will mostly want to crash after this carb fest, and sleep off the rich, fatty deliciousness that is Kyrgyz cuisine — perhaps in one of Bishkek's many beautiful parks? Sounds like a pretty ideal weekend to me.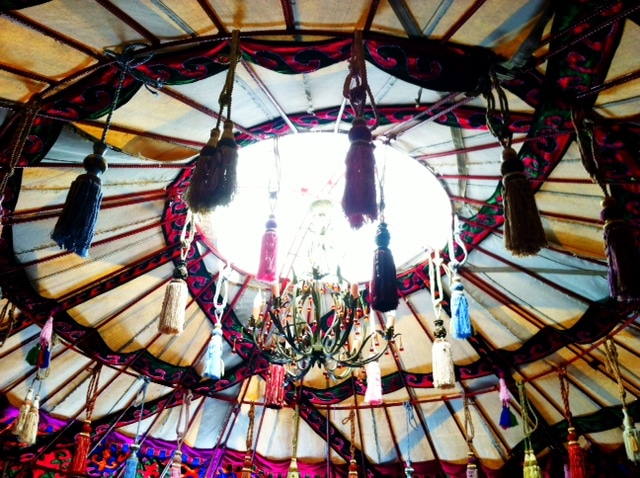 I should probably add that the yurt can get pretty hot. In hindsight, it probably was not a good idea to dine in the yurt during the hottest time of the day (2pm) in 90-degree weather, just because by the time we left the café, we were completely drowned in sweat, and drained of energy. I'd suggest dining in the yurt in cooler temperatures, perhaps after the sun sets, or maybe during a cool summer thunderstorm. (Actually, the latter sounds kind of romantic.) Or just dine in the café's indoor, air-conditioned section. (But that's not so romantic.)
The most important takeaway is that if you're in Kyrgyzstan, beshbarmak-out at least once. Do not deny yourself this culinary experience. Of course, many will have their opinions about Ozgochu, and what defines traditional beshbarmak. I know many Kyrgyz people who would never order beshbarmak in restaurants, just because Mom at home always cooks it better. But Ozgochu is a great option — no, terrific option — for those who do not have that luxury.
More About Beshbarmak
If you are interested in learning more, see this article about cooking traditional beshbarmak, also on our site. More on Central Asian food traditions and recepies can also be found on our site.
Of course, one of the best ways to experience Central Asian culture (and try traditional beshbamak!) is to immerse yourself in it in Central Asia. Students on SRAS study abroad programs in Central Asia can learn language, history, geopolitics, and more, all with an extensive cultural program.