The following bilingual Russian MiniLesson is meant to build your vocabulary by providing Russian phrases within English text. Hover over the bold Russian to reveal its English translation. It is written for those students who may be interested in discussing with Russian friends the meaning and history of one of America's most important holidays.
День независимостиIndependence Day is celebrated in the United States on July fourth, and is therefore sometimes called simply "четвёртое июля"the Fourth of July. This holiday celebrates подписание Декларации независимости в 1776 годуthe signing of the Declaration of Independence in 1776. It served to объявить тринадцать колоний независимыми от Великобританииdeclare the thirteen colonies independent from Great Britain. The Declaration of Independence was signed by some of the most famous отцы-основатели СШАAmerican founding fathers, such as Benjamin Franklin, Thomas Jefferson, and John Adams, who were members of the Второй Континентальный КонгрессSecond Continental Congress.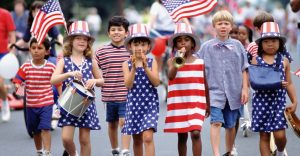 Independence Day is the самый патриотический праздникmost patriotic holiday in the US. The атмосфераatmosphere on the Fourth of July can be compared to the atmosphere on День ПобедыVictory Day in Russia. Independence Day is a национальный праздникnational holiday, so most businesses не работаютare closed on that day. Because it происходит в середине летаfalls in the middle of the summer, many traditions related to Independence Day occur на открытом воздухеoutdoors.
Since Independence Day is such an important holiday, many Americans decide to украшатьdecorate their houses with лентами, шариками, или американскими флагамиbanners, balloons, and/or American flags. The most common colors for these decorations are, or course, красный, белый и синий – цвета американского флагаred, white, and blue—the colors of the American flag.
Many towns begin their celebrations with a парадparade in the morning. These parades almost never feature военная техникаmilitary hardware. Instead, they tend to focus on celebrating the local community – schools, businesses, and local organizations will often contribute "floats" (decorated trailers usually pulled by trucks – Russian parades and the Russian language have no equivalent for this) that are usually meant to be fun and call attention to the sponsoring organization. In the afternoons, there may be a концертconcert, or family and friends собираются на пикник или барбекюgather for picnics or barbeques. Traditional foods for the day include хот-догиhot dogs and гамбургерыhamburgers cooked over a grill and eaten with картофельный салат, яичный салат, запеченная фасольpotato salad, egg salad, and/or baked beans and other regional favorites.
A very important tradition in the evening is to пускать фейерверкиset off fireworks. Салютыfireworks displays may take place in a городская площадь, парк, или ярмарочная площадьtown square, park, or fairground, or families might decide to set off their own fireworks. People often поют патриотические песниsing patriotic songs during or after fireworks displays. Those community displays will often be timed to songs that will play on a specific radio station that people can tune into for the event.